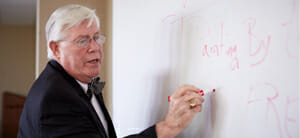 Atlanta's John Marshall Law School (AJMLS) Associate Professor and criminal law expert, Michael Mears, has become an international go-to authority on RICO charges in Georgia. Interviewed by outlets in the United States, Canada, and Australia, his storied career lends powerful insight to the ongoing RICO cases involving former President Donald Trump, and separately, the Atlanta Cop City protestors.
Most recently, Professor Mears was interviewed this past week by Russian Television International (RTVI). RTVI, based in New York and not associated with RT, is a privately owned news organization that targets Russians living abroad as its audience, including Russians living in the United States. He talked about the Georgia RICO statute, the Cop City case, and the Donald Trump case. The show was conducted in the Russian Language with an interpreter. Little known fact: Professor Mears speaks Russian.
Also in November, Professor Mears was interviewed by CBC/Radio-Canada, which airs across Canada on their flagship nightly newscast and also in many countries throughout Europe and Africa via the TV5 network, which is available as well in the US. He was interviewed about Donald Trump's advisers who pleaded guilty in Georgia.
In late September, Professor Mears was interviewed by ABC Radio National in Australia. The subject of the interview was the RICO prosecution of former president Donald Trump, et al. and they discussed the Georgia RICO statute and the process of a RICO trial.
RICO Acts have brought down mafia bosses, corporate criminals, and stockbrokers now ones being used against former US President Donald Trump
Earlier this fall, Law360 interviewed multiple local law professors, including Mears, to discuss former president Donald Trump and his Fulton County case in Georgia.
He's In Real Jeopardy': Ga. Law Profs Weigh New Trump Case
This past August, Professor Mears was quoted in the New York Times. He was asked to discuss the use of the RICO statute in Donald Trump's indictment.
His quote was, "It's a powerful law enforcement tool. The Georgia RICO statute allows prosecutors to bundle together what may seem to be unrelated crimes committed by a host of different people if those crimes are perceived to be in support of a common objective.""It allows a prosecutor to go after the head of an organization, loosely defined, without having to prove that that head directly engaged in a conspiracy or any acts that violated state law," Michael Mears, a law professor at John Marshall Law School in Atlanta. "If you are a prosecutor, it's a gold mine. If you are a defense attorney, it's a nightmare."
Shortly after his quote posted in the New York times, CNN reached out to him to elaborate on air and was interviewed by Fredricka Whitfield in-studio.
Fredricka Whitfield interview, CNN
Michael Mears teaches Evidence, Advanced Criminal Procedure, and Ethics. He received his Bachelor of Science and Master of Arts in Teaching degrees from Mississippi State University. Michael is a graduate of the University of Georgia School of Law (Class of 1977). Michael served as the Mayor of the City of Decatur, Georgia from 1985 to 1993.
Michael was awarded the Elbert P. Tuttle Jurisprudence Award for Lifetime Achievement by the Southeast Regional Anti-Defamation League, February, 2009; He was awarded the Liberty Bell Award by the Atlanta Bar Association 2008; and was named named as a Georgia Super Lawyer for the years 2004, 2005, and 2006 by Atlanta Magazine. In 2003, Michael was selected to be the founding Director of the Georgia Public Defender Standards Council after serving for over ten years as the Director of the Multi-County County Public Defender Office, a state-wide death penalty public defender service funded by the State of Georgia. He retired from that position in 2007 and has been an Associate Professor of Law at Atlanta's John Marshall Law School since his retirement from the Public Defender Standards Council. In addition to his teaching duties, Michael has also served as the Associate Dean of the Law School for Academic Affairs. Michael has also been selected as a visiting scholar at Bahcesehir University Law School in Istanbul, Turkey.