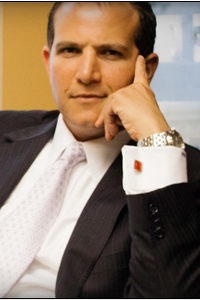 Joe Habachy
Adjunct Professor, Joe S. Habachy Attorney at Law
jhabachy@johnmarshall.edu
Education
B.S., Mercer University, cum laude
J.D., University of Georgia School of Law
Courses Taught
Entertainment Law
Career Highlights
Professor Habachy is an accomplished and well-respected Georgia trial lawyer. He has been privately practicing Criminal Defense and Entertainment Law in and around Atlanta, Georgia for more than 15 years. His principal office is in Atlanta, but he represents clients in State Courts in every part of Georgia and Federal Courts nationwide.
Habachy has aggressively defended and won criminal cases in the metro areas of Atlanta, Macon, Augusta, Athens, Columbus, Rome, Gainesville, and numerous other counties in Georgia. He was born in Georgia, and has practiced law in Georgia his entire career.
Habachy regularly represents celebrities, athletes, and other high profile clients on a variety of criminal matters. He is a regular panelist at continuing legal education seminars pertaining to the representation of high profile clients and is sensitive to the specific needs of clients in the public eye.
Habachy has represented thousands of criminal defendants on diverse criminal matters ranging from D.U.I. to Drug Trafficking. He has successfully litigated innumerable cases. He regularly obtains Not Guilty Verdicts in State and Superior Court. He has extensive DUI experience and is certified in the administration of Field Sobriety tests and the Intoxilyzer 5000. He has successfully challenged numerous DUI arrests and roadside tests. Further, he has tried cases of all calibers, including homicide, rape, aggravated assault and Drug Trafficking. He has litigated innumerable search and seizure issues. Joe has also appealed various issues and set legal precedent in the State of Georgia.
Habachy is also well-known in the field of Entertainment Law. He has successfully drafted, red-lined, and negotiated innumerable contracts for Musicians, Artists, Recording Companies, Music Publishers, Producers, Actors, Reality Shows, Reality Show Participants, Indie Film Producers/Directors, Television Shows, Radio and even Ringtone Artists. Contracts have included production agreements, management agreements, agency agreements, publishing agreements, various licenses, sampling agreements, site agreements, partnership agreements, and recording agreements. He also has extensive Trademark and Copyright experience. His Entertainment client list includes numerous well-known musicians and film/television personalities. He is a member of the Georgia Entertainment Bar and volunteers for the Georgia Volunteer Lawyers for the Arts.
Habachy is often asked to speak at Continuing Education and Trial Practice seminars (both Criminal and Entertainment) to share his knowledge and experience with other lawyers in Georgia. Joe is a regular speaker on various Radio shows, a regular guest at Law School Seminars, and a regular visiting judge for national and international mock trial competitions.
Habachy graduated cum laude from Mercer University in Macon, Georgia in only two years. After working as an IT consultant with Pricewaterhouse Coopers for two years, Joe returned to University of Georgia School of Law, where he served as Vice President of the Entertainment Law Association and competed nationally on UGA's successful Mock Trial Team.
Admitted to Practice
Joe is a member of the bar of the Supreme Court of Georgia and the Georgia Court of Appeals. He is also a member of several Federal Courts, most importantly, the Northern District of Georgia. Joe is currently the Vice President of the Atlanta Chapter of the Georgia Association of Criminal Defense Lawyers (GACDL).