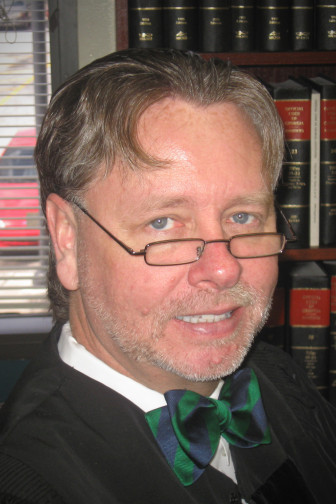 Atlanta's John Marshall Law School (AJMLS) Adjunct Professor and Chief Judge of the Juvenile Court of Clayton County, Steve Teske, has been especially active outside the court and classroom in recent months.
In January, The Child Protection and Advocacy section of the State Bar of Georgia invited Judge Teske to deliver the keynote address at their annual conference. The paper he authored was titled "How Professionalism Can Promote Child Protection and Advocacy Using 'Procedural Fairness' as a Court Reform". The paper thesis is below:
"This paper contends that extending ourselves beyond the minimum standards required of our code of ethics and engaging our clients specifically, and our court system generally, through the lens of professionalism, we can improve the outcomes for our respective clients by : 1) shaping facets of our juvenile justice and child welfare systems to conform to best practices that in turn leads to; 2) producing court orders best suited to meet the needs of our clients (whether a child in a delinquency or dependency case or a parent in a dependency matter); and 3) increase the level of compliance in cases where our client is adjudicated, and is required to be under supervision for re-unification (i.e. parent); probation conditions (delinquent youth); or a child in need of services whether dependent, unruly, or truant.

This paper will focus on a particular model called "Procedural Fairness" as a methodology for exercising the values of professionalism that when employed with fidelity, outcomes for children and for parents will improve dramatically in both the juvenile justice and dependency domains of our juvenile courts. Procedural fairness is not to be confused with due process, procedural or substantive. Like our code of ethics, due process sets forth the minimal rules by which we must afford parties that appropriate modicum of fairness. Procedural fairness is all about professionalism and therefore, goes beyond the minimum. Like our values of professionalism, procedural fairness expects higher standards by which fairness is not only defined by the law, but is measured by the litigant."
Beginning in late 2019, Judge Teske published a series of articles both regionally and nationally. While he publishes regularly for Juvenile Justice Information Exchange (JJIE), this particular series on plea bargaining in the juvenile court began with his piece, "The Contrariness of Plea Bargaining in the Juvenile Courts", published in December 2019, which was then followed by two more articles published in January 2020 titled "Plea Bargaining Hurts Both Guilty and Innocent Kids" and "To Use Evidence-Based Programs for Kids, Get the Lawyers Out of Here". After editors at the national quarterly journal, Juvenile Justice Update, took an interest in his thoughts on the subject, they approached Judge Teske to write an additional article, also titled "The Contrariness of Plea Bargaining".
When asked about the content of this series, Judge Teske kindly summarized for AJMLS,
These series of articles begin with describing plea bargaining, its history and development, and leading into the pros and cons. It is the sharp difference in the role of the juvenile courts–rehabilitation over punishment–that makes plea bargaining a tool that works contrary to the rehabilitative role. To understand this how plea bargaining works conversely to rehabilitation requires an understanding of the "What Works" literature developed over the past nearly three decades, which is a collection of practices and programs proven to reduce recidivism among high-risk offenders and prevent delinquency by taking steps to avoid what I call "hyper-recidivism." The rub is that many of these evidence-based tools that provide the most informed recommendations for rehabilitation cannot be administered prior to the guilt-innocence stage without violating the child's 5th Amendment right against self-incrimination. In other words, absent these tools, prosecutors and defenders are negotiating dispositions for kids that will be less effective to ward rehabilitation. Thus, plea bargaining should be limited or eliminated altogether as I did in my court as early as 2003 that has played a role in reducing delinquency filings to the court as much as 82 percent.
Still forthcoming in 2020 will be Judge Teske's article in Volume 54 Issue 4 of the Georgia Law Review titled "Georgia Juvenile Justice Reform: Using a Collective Decision-Making Approach to De-Politicize Crime and Punishment". The abstract of the forthcoming article is below:
"Since the creation of the first juvenile court in 1899, juvenile courts have undergone periods of transition in response to legislative enactments prompted by societal events or in response to legal challenges involving due process rights of children. This Article examines the extent to which politics has played a role in shaping juvenile justice and crime policies and its impact on children and public safety. In this critical review of each period of transition, this Article concludes that the lack of success among juvenile justice agencies, including the courts, is predominately the result of the politicizing of crime and punishment in the United States. This politicization consequently disrupts efforts to employ programs and practices that empirical evidence has shown to prevent and reduce delinquency. Using Georgia's approach to juvenile justice reform as a case study, this Article shows how using a collaborative approach coupled with employing a methodical analytic decisionmaking process de-politicizes the issues, allowing for a discussion of programs and practices that work".
Thank you, Judge Teske, for your incredible work in the juvenile courts. Your research and experience brings the very best juvenile law learning experience to Atlanta's John Marshall Law School students.
Editor's note: Since publication, Judge Teske's article in the Georgia Law Review has been published. You may read the full article here.