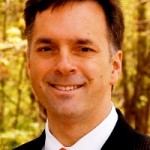 Atlanta's John Marshall Law School (AJMLS) Adjunct Professor and Acting District Attorney in Cobb County has been named the new Chief of Staff at the Georgia Bureau of Investigation (GBI).
In addition to teaching AJMLS students, Professor Melvin is in his 24th year as a prosecutor and has worked in three metro Atlanta counties: Dekalb, Gwinnett, and Cobb.
Melvin said he makes a pitch for his career path in classes he has taught at Atlanta's John Marshall Law School and previously at Emory University School of Law.
"I tell them I have dismissed more cases as a prosecutor than any defense attorney will ever win," Melvin said.
"People want to change the system and improve the world," he said. "A prosecutor has a tremendous amount of power. You really want good people in those positions."
His courtroom experience has brought invaluable lessons and insight to AJMLS students in the classroom and we wish him the best as he transitions to his new post at the GBI. Congratulations, Professor!