The success of our students is our priority, and AJMLS does everything it can to help students realize their potential. The Office of Student Affairs and Pro Bono Programs is committed catering to students' educational, professional and networking needs while in law school. The department offers services and support to students to enhance growth and development. Students are welcome to utilize all services the Office provides.
From the Dean of Student Affairs and Pro Bono Programs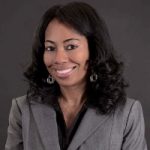 AJMLS has committed substantial resources to the expansion and development of its academic programs, and has a diverse group of highly-talented faculty members, all of whom take an active interest in student development and learning. Given the rigors of law study, John Marshall makes a concerted effort to provide a learning environment collegial and supportive for its students. Specifically, the Office of Student Affairs and Pro Bono Programs strives to create opportunities for personal, academic and professional growth; as well as develop and maintain a supportive community for students. This is accomplished by promoting communication, the free exchange of ideas, and interaction between and among groups. In addition, the Office makes every effort to instill a sense of professionalism, pride, community and responsibility in each student, while fostering academic and social integration.
By design, John Marshall is a close-knit community with a small student-faculty ratio. The Office further sustains this community initiative by providing students with opportunities to explore personal passions, learn and develop their leadership skills, engage in social, cultural and professional events, and to network with other students with similar interests. This student-centered approach eases the transition into law school, and enhances students' experiences throughout their legal education. Beyond its strong intraschool relations, AJMLS is committed to serving the greater community, particularly that segment that has traditionally been underrepresented. The environment at the school, therefore, fosters social awareness, ethical and professional responsibility and a desire to be of greater good. Because of its long-standing tradition of social concern, AJMLS has attracted and educated generations of lawyers devoted to community leadership, community service and integrity.
AJMLS is also strategically positioned in the heart of the state's capital. Atlanta is one of the nation's most diverse and dynamic cities, and the diversity of the city is reflected in the school's unbending commitment to a student body and faculty that are diverse in areas running the gamut from race and culture, to life experiences, to background and previous work experience. We strongly believe the quality of the program and the quality of the people in it make the learning experience for students here one of the most exciting and intellectually fulfilling of their lives. Our primary mission is to produce high-quality lawyers with a desire to make a difference.
Sheryl Harrison-Mercer
Associate Dean of Student Affairs and Pro Bono Programs