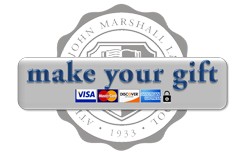 The John Marshall Law School Foundation, Inc. is a Section 501(c)(3) not-for-profit organization. All contributions to the Foundation are tax deductible to the extent allowed by law.
Foundation Funds
John Marshall Law School Foundation
The mission and purposes of the John Marshall Law School Foundation, Inc. are to provide financial support, by means of funded scholarships and fundraising activities, to law students attending Atlanta's John Marshall Law School, who come from disadvantaged backgrounds or underserved communities, and who show promise of succeeding in law school and who otherwise would not have the financial means to fulfill their educational goals.
The Foundation was formed to support the efforts of the Law School in achieving its goals, and seeks to further the mission of the Law School by assisting the Law School in funding scholarships to qualified students based upon financial need to help fulfill their educational goals of becoming practicing attorneys.
Merchant & Gould Scholarship Fund
Merchant & Gould P.C., a national intellectual property law firm with clients in the Southeast region, is proud to sponsor a scholarship for Atlanta's John Marshall Law School students seeking a career in intellectual property law and coming from diverse backgrounds. In addition to providing financial support, the firm wants to create opportunities and experiences for the next generation of IP attorneys. A cash gift of $5,000 merit aid shall be awarded for the law schools' student(s) selection per year. The scholarship will be awarded in the spring of each year. For more information about this scholarship please email Wendy Aina, waina@johnmarshall.edu.
Donate to the Foundation