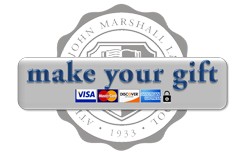 The John Marshall Law School Foundation, Inc. is a Section 501(c)(3) not-for-profit organization. All contributions to the Foundation are tax deductible to the extent allowed by law.
The mission and purposes of the John Marshall Law School Foundation, Inc. are to provide financial support, by means of funded scholarships and fundraising activities, to law students attending Atlanta's John Marshall Law School, who come from disadvantaged backgrounds or underserved communities, and who show promise of succeeding in law school and who otherwise would not have the financial means to fulfill their educational goals.
The Foundation was formed to support the efforts of the Law School in achieving its goals, and seeks to further the mission of the Law School by assisting the Law School in funding scholarships to qualified students based upon financial need to help fulfill their educational goals of becoming practicing attorneys.
The Law School is currently seeking the appointment of the Law School's Chief Development Officer, who will be responsible for planning and implementing strategies to secure donors and contributions in support of the Law School and the Foundation, provide oversight of the fund development program, monitor development activities, and address issues that may hamper growth and success. Responsibilities will also include building lasting relationships with and providing services to its outstanding local and international alumni base.
Donate to the Foundation