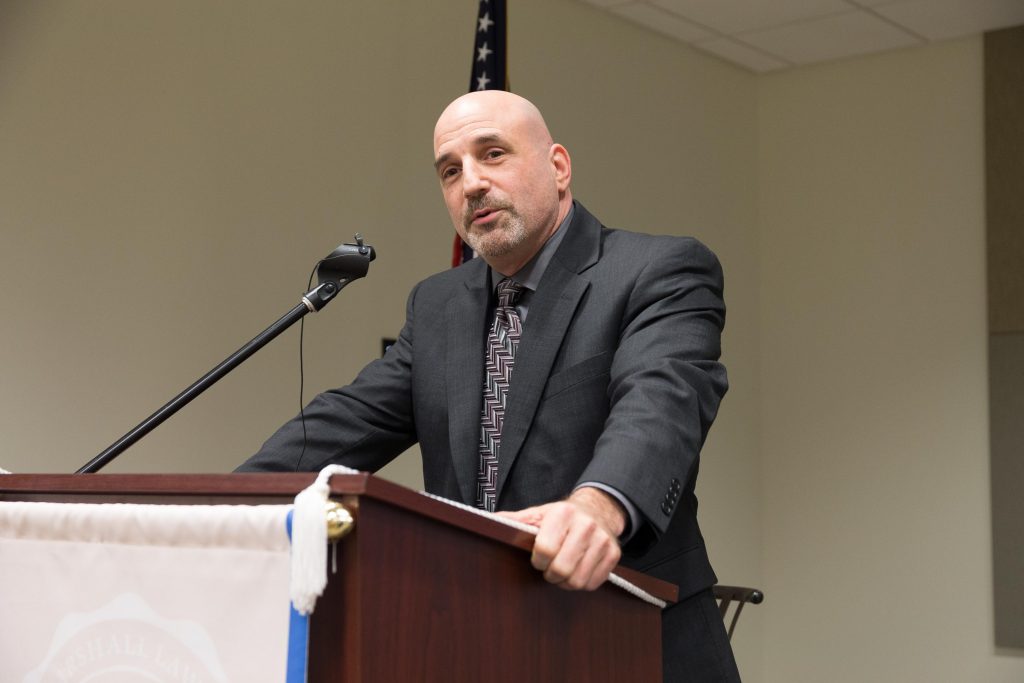 Atlanta's John Marshall Law School (AJMLS) Professor and Director of the Criminal Justice Certificate Program, Jonathan A. Rapping, has been on the move in December and January speaking about criminal justice. In addition to his roles at AJMLS, Professor Rapping serves as the President and Founder of Gideon's Promise, is a Visiting Professor of Law at Harvard University Law School, and is a frequent presenter and contributor to national conversations on criminal justice reform. Rapping is also the recipient of the prestigious MacArthur Foundation Genius Grant, the American College of Trial Lawyers Emil Gumpert Award, Harvard Law School Wasserstein Public Interest Fellowship, Cardozo Law School Inspire Award, and the George Soros Open Society Fellowship along with many other honors and recognitions.
In December, Professor Rapping was the keynote speaker in Chapel Hill, North Carolina at "Where Do We Go from Here? A community forum on criminal justice reform in Orange County". The event was co-sponsored by Orange County and the District 18 Bar Racial Justice Task Force. Invested panelists included the District Attorney, Public Defender, County Sheriff, Police Chief, Superior Court Judge, and representatives from the North Carolina Attorney General's Office, University of North Carolina School of Government, North Carolina Justice Center, and the District Courts. The impressive table of panelists engaged in discussions about "The role of stakeholders in criminal justice reform" and "The intersection of poverty and the criminal justice system". Professor Rapping's keynote was entitled: Rewriting the Criminal Justice Narrative.
Later in January, Professor Rapping will travel to Los Angeles to participate in three separate events on the topic of criminal justice reform. The first, a lecture hosted by the University of Southern California's Dornsife Pre-Law Speaker Series discussing "The Lawyer's Role in a Just Society". The second, Professor Rapping is presenting to the Los Angeles Public Defender's Office a lecture discussing "A public defender movement to transform criminal justice". The third, a lunch event presented by UCLA Law's Criminal Justice Program and David J. Epstein Program in Public Interest Law and Policy discussing "Gideon's Promise: Building a Public Defender Movement to Transform Criminal Justice".
When asked of his work, Professor Rapping remarked "Lawyers have always played a critical role in the ongoing struggle to push our nation to achieve its stated ideals. The criminal justice system is one example of how far we are from living our democratic values. It is not enough that lawyers help administer the system as it exists; they must be change agents to make society more just. How law schools educate future lawyers determines whether they are prepared to raise the standard of justice or perpetuate the status quo. I am proud of our mission at John Marshall and our commitment to creating lawyers who will leave the legal system better than when they entered it. "
The Law School is proud to offer its students the opportunity to learn criminal law from one of the nation's leaders working to improve the criminal justice system. Thank you, Professor!