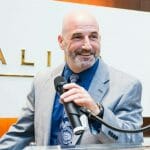 Atlanta's John Marshall Law School (AJMLS) Professor and Director of the Criminal Justice Certificate Program, Jonathan A. Rapping, helped to facilitate the Trial Advocacy Workshop for law students at Harvard Law School January 9-10, 2019. In addition to his roles at AJMLS, Professor Rapping serves as the President and Founder of Gideon's Promise, is a Visiting Professor of Law at Harvard University Law School, and is a frequent presenter and contributor to national conversations on criminal justice reform. Rapping is also the recipient of the prestigious MacArthur Foundation Genius Grant.
Also recently, The Jewish Council for Public Affairs invited Professor Rapping to join a working group of Jewish experts in criminal justice reform, and to participate in a strategic planning session on Jewish Advocacy and Criminal Justice Reform. The planning session took place at the law offices of Arnold & Porter in Washington, D.C. December 4-5, 2018.
On November 28, 2018, Professor Rapping also presented at the National Association for Public Defense "We the Defenders Conference" in Indianapolis. Professor Rapping's presentation on Client Centered Defense Teams and Race in the Criminal Justice System was delivered to investigators, social workers, and sentencing advocates from across the nation.
The Law School is thrilled to offer its students the opportunity to learn criminal law from one of the nation's leaders working to improve the criminal justice system. Thank you, Professor!