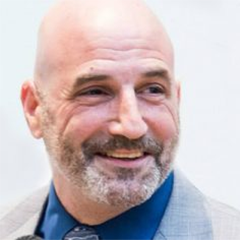 Atlanta's John Marshall Law School (AJMLS) congratulates Professor Jonathan Rapping, Director of the Criminal Justice Certificate Program, for his recent honor receiving the Alumni Professional Achievement Award from The University of Chicago. 
The Alumni Professional Achievement Award recipients are accomplished luminaries in any professional field. These alumni's achievements have brought distinction to themselves, credit to the University, and real benefit to their communities.
When asked of his recent honor, Professor Rapping reflected, "This award is incredibly meaningful to me because my experience at the University of Chicago helped set me on a path to live out my vision for myself as part of a larger effort to make the world more just. As a Professor at AJMLS I am able to help students define their vision for how they want to serve. Atlanta's John Marshall did not expect me to leave my previous work to become a law teacher. Instead, it welcomed me bringing that work into my teaching and scholarship to train a student body to carve a career path consistent with our mission to develop the lawyers of tomorrow who will serve those who have historically had the least access to justice. I am honored to be able to live the professional achievement that this award recognizes through my work at AJMLS."
Outside the classroom, Professor Rapping is the founder and president of Gideon's Promise, a nonprofit organization with the mission to transform criminal justice by building a movement of public defenders who provide equal justice for marginalized communities. In addition to his full-time teaching at AJMLS, he is also a visiting professor at Harvard University Law School.
Professor Rapping recently authored Gideon's Promise: A Public Defender Movement to Transform Criminal Justice (2020), building on an extensive collection of scholarship and informed by his work in the field. In the book, he argues that cultural transformation is critical to realizing justice in America's criminal legal system and provides a blueprint for achieving that vision. In 2014, Professor Rapping received the prestigious MacArthur Genius Fellowship for his cutting-edge approach to justice transformation. He is the co-host of Gideon's Promise: The Podcast, along with his wife and Gideon's Promise co-founder and executive director, Ilham Askia. Professor Rapping's work was also the inspiration for the award-winning HBO documentary Gideon's Army.
Congratulations, Professor, it is our honor to support your mission and champion your successes. AJMLS students are afforded the very best criminal justice education from you.