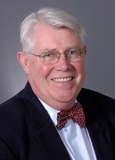 Atlanta's John Marshall Law School (AJMLS) Associate Professor, Michael Mears, has been selected to participate in a transnational legal education project with the National Law University in New Delhi, India.
The National Law University in New Delhi is one of the national law schools in India built on the five-year law degree model proposed and implemented by the Bar Council of India. National Law University (NLU) Delhi was established in 2008 with the objective of promoting ethical values with a view to promoting the rule of law and the objectives laid down in the Constitution of India. The University offers various courses including an LL.B. Program and a Ph.D. Program in multiple specializations.
Professor Mears will be lecturing on several selected themes including the American Legal System's adversarial system, the right against self-incrimination, and the advancement of forensic evidence in the American Judicial System. Professor Mears will be collaborating in this series of lectures with Dr. Bharti Yadav, Assistant Professor of Law at National Law University, Delhi.
Professor Mears has been on the faculty at AJMLS since 2007. He teaches evidence, advanced evidence, criminal law, criminal procedure, and criminal law ethics. In 2003, Mears was selected to be the founding Director of the Georgia Public Defender Standards Council after serving for over ten years as the Director of the Multi-County County Public Defender Office, a state-wide death penalty public defender service funded by the State of Georgia. He then retired from that position in 2007 and has been an Associate Professor AJMLS since.
Thank you for your contributions to the international legal community, Professor Mears. We are thrilled that law students internationally have the opportunity to learn from your expertise.