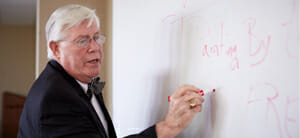 Atlanta's John Marshall Law School (AJMLS) Associate Professor, Michael Mears, has been appointed to serve on the Southeastern Association of Law Schools (SEALS) Global Outreach Committee for this coming year. SEALS is a regional association of law schools that provides annual opportunities for faculty to present and receive feedback on their ongoing research at their annual meeting, and offers legal educators panels and discussion groups to enhance their classroom teaching and scholarly works.
The International Committee has three core missions:
1)      Develop and Sustain Strong International Partnerships
SEALS is historically and still primarily focused on law schools in the Southeastern United States. However, we recognize that building good relationships with colleagues around the world is a worthy and important goal. We seek to encourage and facilitate participation in SEALS by law faculty who live and work beyond the U.S. borders.
2) Encourage global & comparative perspectives on the law and legal education
While international and comparative law are core pillars of legal practice and legal education in most of the world, they have not attained such prominence in the United States. The A.B.A. has recognized this as an area for improvement and this committee agrees. We will propose programs, panels and events that prioritize a more global focus and/or comparative analysis.
3) Provide international opportunities for SEALS members
This committee is very proud of the professors at our member schools and wants to showcase them to the world. Our goal is to seek out international publication, speaking and teaching opportunities and publish these to the member schools.
Thank you, Professor Mears, for your ongoing contributions to the legal community and legal education.