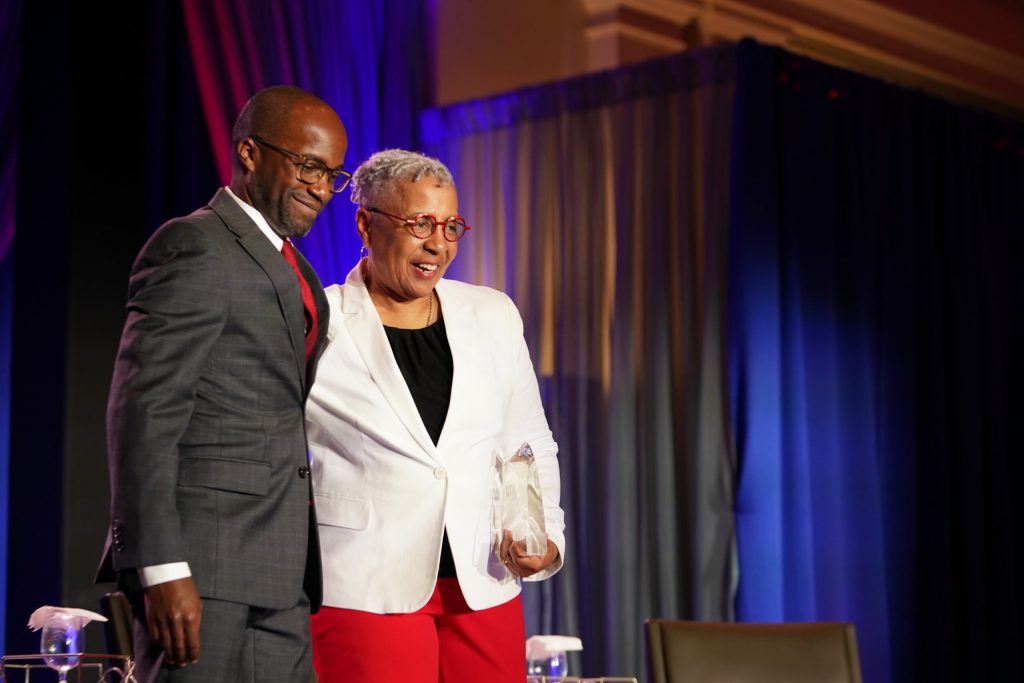 Atlanta's John Marshall Law School (AJMLS) joins the American Civil Liberties Union (ACLU) of Georgia in celebrating Dr. Bridgett Ortega, Associate Dean of Career Services and Professional Development, for her 12 years of service and leadership. After 11 years at Atlanta's John Marshall Law School, Dr. Ortega is closing out her last month as a full-time administrator and will return this fall as an Adjunct Professor in her retirement.
Joined by her family and AJMLS team members, Dr. Ortega attended the 2022 Annual Membership Meeting for the ACLU of Georgia on June 29, 2022 at the Atlanta History Center. At the event, she was celebrated by her peers and thanked for her long term service and contributions. 
The ACLU shared at the event, "The current ACLU of Georgia you helped build is one that brings a complex, expert, and passionate approach to the considerable civil rights and civil liberties challenges of our times. In your role as the Equity Officer, you have guided our organization to integrate Equity, Diversity, Inclusion and Belonging into all aspects of our work, and the increasingly diverse staff and Board are reflections of this."
Dr. Ortega served the ACLU of Georgia Board of Directors as the Equity Officer from 2011-2022 and co-chairs the Equity, Diversity, and Inclusion Committee at AJMLS since its inception.
"I am honored to receive this recognition from the ACLU. I am just one of many voices for liberty and justice who work for and with the ACLU. I will continue my journey with them but as a ground soldier now." said Dr. Ortega.
AJMLS acknowledges the incredible contributions that Dr. Ortega has made at the Law School and in our community, and we applaud her ongoing service to the ACLU.