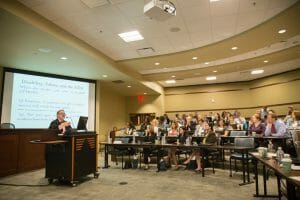 Atlanta's John Marshall Law School (AJMLS) Professor Jeffrey Van Detta, the John E. Ryan Professor of International Business and Workplace Law, recently gave two lectures based on his most recently completed works of legal scholarship.
On October 5, 2018, Professor Van Detta was one of the featured speakers at Belmont University Law School's 2018 Law Review Symposium-CLE Program,
"The Modern Workplace: Contemporary Legal Issues in Employment & Labor Law."
His topic is an area of particular expertise for Professor Van Detta — the "direct-threat" standard under the Americans with Disabilities Act (ADA). The Harvard Journal of Law & Public Policy published Professor Van Detta's 1999 article on this subject, which arose frequently during his 13 years of law practice at Atlanta-based Kilpatrick Townsend & Stockton, when he represented clients in safety-sensitive industries such as commercial passenger aviation, defense contracting, and manufacturing and logistics. Professor Van Detta's latest article on this topic updates the developments in this area over the last 20 years. "For The Love Of God!  Open This Door!":  Individual Rights Versus Public Safety Under The "Direct Threat" Standard Of The Americans With Disabilities Act After Three Decades Of Litigation, 6 Belmont L. Rev. ___ (2019)
Faculty from Boston University Law School, Pace University Law School, University of West Virginia College of Law, University of Cincinnati College of Law, University of Memphis Law School, ITT Chicago-Kent College of Law, and Nova Southeastern University College of Law, joined Professor Van Detta on this day-long program.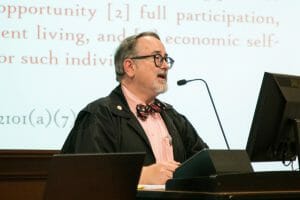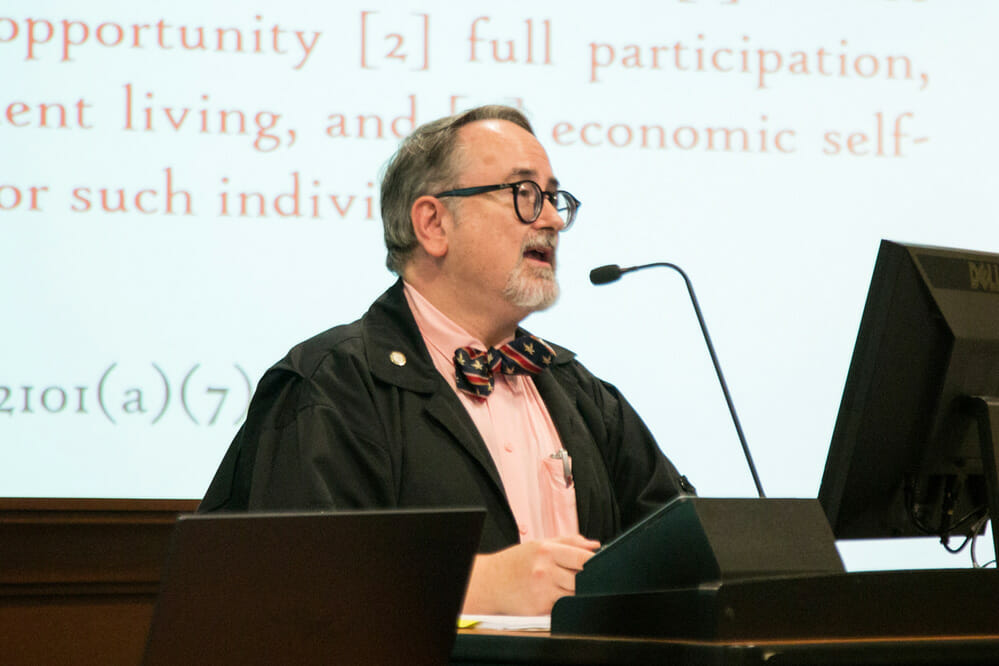 On October 18, 2018, Professor Van Detta was a featured presenter at the 25th Annual Georgia ICLE Supreme Court Update. Following a presentation he made on a blockbuster 2013 SCOTUS case concerning the Alien Tort Statute (ATS) in 20th Annual Supreme Court update in 2013, Professor Van Detta lectured on a pair of 2018 SCOTUS cases that substantially limited the kinds of claims that can be made under both the ATS and the anti-terrorism exceptions to foreign-nation sovereign immunity under the Foreign Sovereign Immunities Act (FSIA). The paper he wrote for the ICLE program has been accepted by the University of Indiana Robert H. McKinney School of Law's International & Comparative Law Review, for publication in its Spring 2019 issue. In addition, the University of Indiana has invited Professor Van Detta to be one of the featured speakers at the Law Review's Annual Symposium in Spring 2019. Rubin v. Islamic Republic of Iran and Jesner v. Arab Bank, PLC: SCOTUS Trims To Statutory Boundaries The Recovery In U.S. Courts Against Sponsors of Terrorism and Human-Rights Violations Under FSIA and ATS, 29 Indiana Int'l & Comparative Law Review ___ (Spring 2019).
Professor Van Detta is currently in his 20th year of teaching at AJMLS, where he teaches courses and publishes in the areas of domestic and trans-national business law (including Contracts and International Business Transactions), workplace law (including Employment Discrimination Law, Labor Law, and several LLM-level courses), Torts, and procedural law (Conflict of Laws, International Civil Litigation in U.S. Courts, and Civil Procedure).