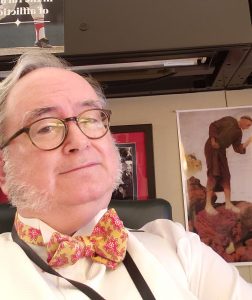 Atlanta's John Marshall Law School (AJMLS) Professor Jeffrey A. Van Detta was reappointed by State Bar of Georgia President Hon. J. Antonio "Tony" DelCampo to serve on the State Bar's Formal Advisory Opinion Board (FAOB or "the Board") for the tenth consecutive two-year term in June 2023.
In 2005, Professor Van Detta became AJMLS's first Representative to the FAOB.
Under State Bar Rule 4-402(a), "[t]he Formal Advisory Opinion Board shall consist only of active members of the State Bar of Georgia who shall be appointed by the President of the State Bar of Georgia, with the approval of the Board of Governors of the State Bar of Georgia." Rule 4-403(a) prescribes that "the [Board] shall be authorized to draft Proposed Formal Advisory Opinions concerning a proper interpretation of the Georgia Rules of Professional Conduct or any of the grounds for disciplinary action as applied to a given state of facts." The Board drafts a proposed advisory opinion and, after receiving comments and feedback from the legal community, files the opinion with the Supreme Court of Georgia. The Court reviews the proposal and, if adopted, issues a Formal Advisory Opinion that binds members of the Georgia Bar.
Professor Van Detta and Professor Patrick Longan (Mercer Law School) are the two longest-serving members of the Board, who were both appointed in 2005.
Among Professor Van Detta's publications on legal ethics are Lawyers as Investigators: How Ellerth and Faragher Will Spotlight a Modern Crisis of Ethics, Professionalism, And Profits Through Trial Counsel Disqualification and Waivers of Privilege in Workplace Harassment Cases, 24 J. Legal Prof. 261 (Spring 2000). The Supreme Court of Colorado cited this article in Fognani v. Young, 115 P.3d 1268 Colo. 2005) (en banc), and the article is cited in a later federal district court opinion, Ivy v. Outback Steakhouse, Inc., 2008 WL 11506622, *5, (W.D.Wash. Apr. 14, 2008). The article is also cited in Ellis B. Murov, The Practitioner's Guide to The Defense of EPL Claims 105​ (Am. Bar Ass'n 2005). The article continues to garner citations. See, e.g., Edward T. Tillis, American Law Institute Continuing Legal Education, Current Developments in Employment Law 2022: Selected Evidence and Discovery Issues in Employment Cases (ALI-CLE Course Materials; Philadelphia, PA, July 14 – 16, 2022).
Professor Van Detta also has two forthcoming publications on legal ethics:
The 21st Century, Post-Pandemic "Law Office at Home": The Ethical Challenges When Out-Of-State Lawyers Reside In-State but Run Out-Of-State Law Practices Remotely, 16 J. Marshall L.J. __ (2023)
Anti-Discrimination and The Regulation of Attorney Conduct by The State Bar: A Commentary on The Challenges ABA Model Rule 8.4(g) Faces in Georgia, 15 J. Marshall L. J. __ (2022)
Each of these publications arose from Professor Van Detta's Ethics CLE Hour Presentations at the March 2022 and 2023 Annual CLE Symposia sponsored by the John Marshall Law Journal. The Law Journal will be making the videos of those sessions available on the Law Journal page of the AJMLS website soon.
2023-2024 marks Professor Van Detta's 25th academic year of teaching at AJMLS, and his 10th year as Faculty Advisor of the John Marshall Law Journal.