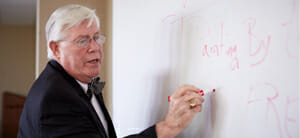 Atlanta's John Marshall Law School (AJMLS) Associate Professor, Michael Mears, was interviewed by Time Magazine for their recent piece, Georgia Gov. Brian Kemp Sued to Block Atlanta's Face Mask Ordinance. In the article, the writer interviewed legal experts at Georgia law schools on whether Governor Kemp's suit to block the local ordinance mandating masks would be successful in court.
This case has drawn national attention as Georgia is not the only state that has seen differing views between local municipalities and state leadership. Professor Mears echoed a similar point to other legal experts, telling TIME that
"there's a number of cases in Georgia going back to the 1930s that give the authority to the governor." 
Mears also goes on to note,
"…the case will also likely be appealed to the state Supreme Court. Don't be surprised if this challenge is just the beginning of a longer legal battle."

Professor Mears has been on the faculty at AJMLS since 2007. He teaches evidence, advanced evidence, criminal law, criminal procedure, and criminal law ethics. In 2003, Michael was selected to be the founding Director of the Georgia Public Defender Standards Council after serving for over ten years as the Director of the Multi-County County Public Defender Office, a state-wide death penalty public defender service funded by the State of Georgia. He then retired from that position in 2007 and has been an Associate Professor AJMLS since. Professor Mears is the author of numerous articles and books, and his unique and diverse background makes him uniquely qualified to comment on the issue as he too has been a Mayor in Georgia for the city of Decatur.
Thank you for your continued contributions to the legal community, Professor Mears. We appreciate all of your efforts!