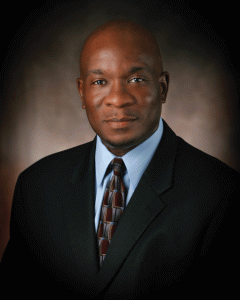 Atlanta's John Marshall Law School (AJMLS) is pleased to announce the appointment of its 10th Dean, Jace C. Gatewood. Dean Gatewood succeeded Dean Malcolm L. Morris on January 1, 2020 as Interim Dean and CEO, becoming the first African American to serve in the role since the school's founding in 1933.
Dean Gatewood, who has been a senior member of the faculty since 2008, said "Atlanta's John Marshall has offered the opportunity for legal training to those who might not otherwise have been able to earn a law degree. For much of its 87 year history, women and African Americans were more welcome at Atlanta's John Marshall Law School than at many law schools, and the Law School today proudly continues its tradition of diversity."
Dean Gatewood has served in roles such as Associate Professor, Associate Dean of Graduate Programs, and Associate Dean of Academic Programs. In addition to teaching, he has chaired the curriculum committee, and been a member of the admissions committee and faculty recruitment committee. Dean Gatewood has taught a range of courses including Property, Business Organizations, Sales and Secured Transactions, Wills, Trusts and Estates, and Agency and Negotiations. As a faculty member at Atlanta's John Marshall, Dean Gatewood has authored numerous scholarly publications, with his chief research topic being the fourth amendment and an individual's right to privacy in an increasingly technological world.
Dean Gatewood attended Georgetown University where he was a full scholarship track and field athlete. Becoming the first African American Dean of AJMLS was not his first historic moment, he was also a world and American record-holder for the Distance Medley Relay in 1980. Dean Gatewood went on to earn his J.D. from Georgetown University Law Center.
Prior to entering academia, Dean Gatewood practiced for nearly two decades in New York and Atlanta at Weil Gotshal LLP, Troutman Sanders LLP, Powell Goldstein LLP, Atlanta Housing Authority, and the Law Offices of Jace C. Gatewood. He specialized in a wide range of commercial lending and corporate and real estate finance transactions. His expertise includes the representation of lenders and foreign and domestic commercial banks in the establishment and administration of single lender and syndicated loan facilities of all kinds.
"Atlanta's John Marshall Law School occupies a unique place in American legal education," said Dean Gatewood. "I am extremely proud of the opportunity to share in this rich legacy of the school."
Atlanta's John Marshall Law School is looking forward to flourishing under the leadership of Dean Gatewood as it converts to a non-profit institution in 2020.