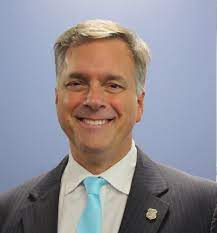 Atlanta's John Marshall Law School (AJMLS) congratulates Adjunct Professor, John Melvin, for his recent publication, Georgia Objections at Trial, Second Edition. The ebook is a publication for the National Institute of Trial Advocacy (NITA) and is an invaluable guide that helps judges, lawyers, and law students navigate the Georgia Evidence Code. The publication is current through 2021 and the new edition provides evidence scenarios and the reasons behind the rulings. 
Professor Melvin, who has taught evenings at AJMLS since 2012, teaches Trial Advocacy and is the current Assistant Director of the Georgia Bureau of Investigation. Having tried 180 trials during his time at the Cobb County, Dekalb County, and Gwinnett County District Attorneys' Offices, he brings the wisdom of his quarter-century of courtroom experience to the publication and classroom. During his time as a prosecutor, he served as Acting District Attorney, Chief Assistant District, Deputy Chief, Public Integrity and White Collar, and Senior Assistant District Attorney. Professor Melvin is also a lecturer at the National College of District Attorneys and served on the Prosecuting Attorneys' Council Basic Litigation committee.
Professor Melvin's courtroom and leadership experience has brought invaluable lessons and insight to AJMLS students in the classroom and we are thankful for his near decade of service to our students.