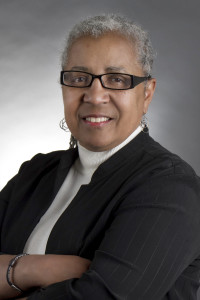 Atlanta's John Marshall Law School (AJMLS) Associate Dean of Career Services and Professional Development, Dr. Bridgett Ortega, is on the move in Georgia, advocating for others.
In her capacity at Atlanta's John Marshall Law School, Dr. Ortega collaborated with AJMLS students to develop and write Home for Good: Overcoming Legal Barriers to Reentry in Georgia*, a self-help guide designed to answer practical, legal questions to help citizens successfully remain in their community. This publication is distributed free of charge and is available on the Law School website here. Dr. Ortega's office provides pro-bono opportunities for students to reach their community at events such as the Restoration Resources Fair for Ex-Offenders, hosted by Congressman Henry "Hank" Johnson on Thursday, February 20th. The 4th edition of the publication is forthcoming in 2020.
As a veteran herself, Dr. Ortega spearhead the creation of the Homeless Veterans Legal Clinic. Now under the leadership of her office and AJMLS alumnus, Corey Martin of Martin and Associates, the second Friday of each month, AJMLS provides representation and advocacy to system-involved veterans through its Homeless Veterans Legal Clinic in partnership with the Atlanta V.A. Medical Center. These services are provided at Ft. McPherson in the Justice Programs Office.
In January, Dr. Ortega was the lead presenter at the January meeting of the End Mass Incarceration Georgia Network, where her presentation spoke to the background on voting disenfranchisement for felonies in Georgia. Georgia law states that anyone convicted of a "crime involving moral turpitude" will lose their voting rights. However, it does not clearly define what "moral turpitude" means. Dr. Ortega lead the discussion and sought to educate, organize, and help disenfranchised people to understand their rights.
As a law professor she has taught ethics, trial skills, criminal and juvenile justice, and experiential learning courses. She has nearly 30 years experience in legal and programmatic positions aimed at criminal and juvenile justice reform. Her life's work has been the zealous advocacy for and on behalf of children and disenfranchised adults, as a public defender, researcher, and policy consultant. Dr. Ortega was formerly Deputy Director for the Robert Wood Johnson Foundation's Reclaiming Futures, a juvenile justice reform initiative aimed at creating strategies for intervening with young people with substance abuse and other issues that bring them into the criminal justice system. She is also a trainer for the National Council of Juvenile and Family Court Judges and former member at large of The National Juvenile Defender Center. Her dissertation is entitled Compassionate Jurisprudence: A Praxis for Justice.
Atlanta's John Marshall Law School students have had the opportunity to learn from Dr. Ortega since 2011 and we thank her for her tireless service!
*The guide is information only and is not legal advice or a substitute for legal advice in any particular situation. If you need legal help or have questions about your particular situation, call a lawyer. Only licensed attorneys can interpret the law for you. See the resource section at the end of the book.