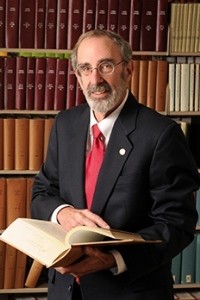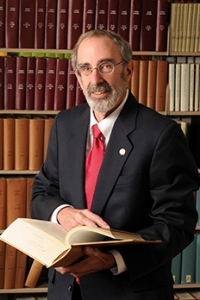 Dean Malcolm L. Morris, who is Atlanta's John Marshall Law School's (AJMLS) ninth dean, announced his retirement to the AJMLS community on November 14.
Dean Morris, who has served since July 1, 2014, said "Fifty years ago I entered law school. Except for a brief hiatus to practice law, I have been working in law schools ever since. It has proven to be a wonderful experience and a career choice never once second-guessed."
During Dean Morris's tenure, the Law School made significant advancements in admissions, bar preparation programs, and upheld its mission to serve both traditional and non-traditional students. Professor Michael Mears noted, "The past several years have provided many challenges to our school and because of Dean Morris's vision and leadership our law school has met those challenges with very positive outcomes. His leadership footprint will remain a part of our school for decades to come."
Dean Morris, who is known for his wit, stories, and trivia, was often found checking-in with his employees around the school. He enjoyed getting to know each person personally and sharing great laughter and conversation. His work ethic was reflected in his schedule as the first to arrive and the last to leave, also being found most weekends jean-clad in his office tending to law school business.
Dean Morris continued "During my time in the academy I have taught at five different law schools and delivered lectures to students in every section of the country. I was privileged to be mentored by some outstanding faculty colleagues, befriended by many other wonderful colleagues, and to teach generations of students. It also was my good fortune to work with a number of professional and lay organizations as well as national and local bar associations. A number of them graciously recognized my contributions, something for which and I am appreciative. In sum, it has been a rewarding and enjoyable career which most importantly was fun."
"Over the last five and one-half years I have led the Atlanta's John Marshall Law School through some difficult times. It now has the academic programming and student support needed to serve those who come to learn how to become and succeed as lawyers. This is a legacy of which I will be most proud for as most of us who teach know student success is our raison d'etre."      
"Many years ago I was taught a simple lesson—leave wherever you have worked a little better place than it was when you arrived. I have always strived to meet that goal and my sincere hope is that I have done so. What I also learned along the way is to enjoy what you are doing. It makes the effort much easier and life more enjoyable."
The road to Dean at Atlanta's John Marshall Law School was paved with impressive leadership positions, research, and service to legal education and the legal community. As one of the most prominent legal scholars in notary law, Dean Morris was the inaugural recipient of the Lifetime Achievement Award from the National Notary Association. Dean Morris was the Director of Graduate Estate Planning Programs and the Associate Director of Graduate Tax Law Programs. He also served two terms as the Associate Dean and one term as the Interim Dean at Northern Illinois University College of Law. During his tenure there, he was elected Secretary of the Faculty Senate and was a member of the Strategic Planning Committee and the University Council, as well as the University Personnel Advisor. Additionally, he has been active as an ABA accreditation site visitor, Board Member and Treasurer of CLEO, Inc., LSAC trustee, and member of various AALS and ABA committees. During his time in Illinois, Dean Morris chaired and participated on numerous Illinois State Bar Association committees, received a number of awards for those efforts, including the prestigious Austin Fleming Award, all of which led to his induction as a Laureate in its Academy of Illinois Lawyers. He also has an extensive scholarship record that includes works published in both law reviews and practitioner-oriented publications.
Dr. Michael Markovitz, Chairman of the Board, remarked, "As the law school's third Dean since achieving American Bar Association accreditation, Dean Morris has presided over the law school through a troubling time for legal education. With his usual good cheer and positive attitude, Dean Morris has seen our law school through these hard times. He strengthened the curriculum and significantly improved student outcomes. He set the school on a positive trajectory, leaving the law school on an up-note for his successor to build upon. We wish him and his wife Terry all the best in retirement."
"I cannot imagine having enjoying any other career as much as I did during my time in the academy," said Dean Morris. "Thank you to everyone who made it possible."
Dean Morris is a graduate of Cornell University (B.S.), SUNY Buffalo (J.D.), and Northwestern University (LL.M.). In retirement, Morris will reside in the greater metropolitan Chicago area with his bride of 36 years, Terry Morris.
As of January 1, 2020, Associate Dean of Academic Programs and Associate Dean of Graduate Programs, Jace C. Gatewood, was appointed Interim Dean and CEO of Atlanta's John Marshall Law School.