The Bursar's Office manages student parking. If you purchased and received a parking card from the Law School, detailed location information is below for the student garage. The cost for the parking pass is the same if you purchase from the school or directly from the vendor, though if you'd like it billed to your law school account for financial aid purposes, you will need to purchase through the school.
If you did not purchase a parking card from the school directly, you are also able to make your own parking arrangements directly through Lanier Parking. Click here and search the school address (245 Peachtree Center Ave. NE) and the nearest garages will be shown.
Full directions and public transportation information may be found here.
227 Courtland St. NE Garage
Courtland St. is a one-way street traveling south.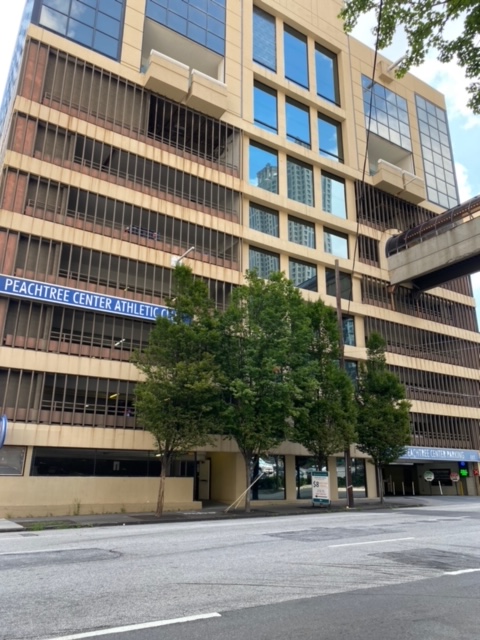 The entrance to the Courtland St. garage is accessible from Courtland St. NE, between John Portman Blvd. NE and Andrew Young International Blvd. NE.
You may walk to AJMLS at street level by walking north on Courtland St., then turning left on John Portman Blvd. The card-access entrance to the Law School is not yet accessible but you may enter the building through the Lobby entrance and proceed to the elevator bank.
You may utilize the aerial walkway, accessible from the 7th level of the garage, that connects directly to the Peachtree Center HUB. The aerial walkways are open without a pass from 7:00 a.m. to 7:00 p.m., and accessible with your law school access card afterhours. After reaching the HUB from the walkway, take an immediate right and follow the signage to the Marriott Marquis. You will walk through another short walkway before finding a bank of elevators (on the left) that will take you up to the Law School.