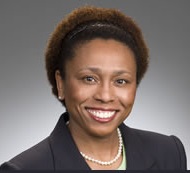 Atlanta's John Marshall Law School (AJMLS) congratulates 1996 alumna, Tasha M. Mosley, on her recent appointment as District Attorney of the Clayton County Judicial Circuit.
Mosley has served Clayton County as their Solicitor General since 2009, and previously served as Assistant Solicitor General in Henry County as well as Master Assistant Solicitor General from 2004 to 2006, and Assistant Solicitor General from 1998 to 2004 in the Clayton County Judicial Circuit.
After graduating from AJMLS, Mosley was the sole practitioner of the Tasha Mosley Law Firm in Jonesboro before beginning her career in public service.
An active community leader, Mosley has received numerous professional awards, including the 2013 Clayton County Bar Association Community Service Award, 2015 and 2018 Freddie L. Groomes-McClendon Caring Awards, 2018 Angela M. Williams Humanitarian Award, 2018 Regina Crothers from the Heart Award, and 2018 Thompson-Jones Award. She also is a member of the State Bar of Georgia's Statewide Judicial Evaluation Committee, Rainbow House Executive Board, and Calvary Refuge Center Executive Board. She is the former Vice Chair of the Prosecuting Attorneys Council of Georgia, Vice President of the Clayton County Bar Association, and President of the Solicitor General Association of Georgia.*
When asked of the appointment, Governor Kemp remarked:
"For many years, Tasha has worked tirelessly to serve the Clayton County community as a strong advocate for her constituents, both in and out of the courtroom. She is beloved by her neighbors and peers, highly regarded and respected in the legal profession, and ready to take on this new adventure," said Kemp. "She has the perfect background and personality for this opportunity, and I know that she will excel."
Atlanta's John Marshall Law School celebrates its alumni and wishes District Attorney Mosley all the best in her new chapter.