Atlanta's John Marshall Law School (AJMLS) congratulates the Corporate and Business Law Society's Negotiations team for winning the ABA's Regional Negotiation Competition this past weekend. The competition was held in New Orleans at Tulane University and the AJMLS team consisted of Ashley Winston, James Elliott, and Ashley Lewis (alternate). A total of 25 teams participated in the regional competition.
Notably, the Atlanta's John Marshall team earned a perfect score from one of the judges during the final round. Having secured the regional win, the team will now compete in the national competition in Chicago this upcoming February.
We are incredibly proud of our students and wish them the best of luck in Chicago!
Pictured left to right: Lewis, Elliott, Winston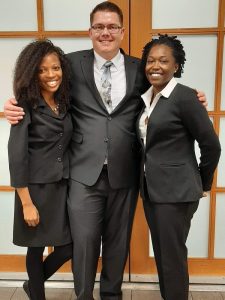 The team would like to thank the following people:
The Corporate & Business Law Society (CBLS)
David McMichael, Northpoint Commercial Finance, LLC (Sponsor)
Raymond Tran, Seyfarth Shaw LLP (Coach)
Don'etrick Houston, AJMLS Student (VP of the Board Room)
Jeffrey Van Detta, AJMLS Professor
Elizabeth Jaffe, AJMLS Professor
John Gibson, AJMLS Student
Chanceity Robinson, AJMLS Student
Lauren Henderson, AJMLS Student
Shauki Smith, AJMLS Student
The Emory University Negotiations Team
The AJMLS Office of Student Affairs
Browing Jeffries, AJMLS Professor
Dean Morris, Dean of the Law School
About the Negotiation Competition
The ABA Law Student Division Negotiation Competition provides a means for law students to practice and improve their negotiating skills. The competition simulates legal negotiations in which law students, acting as lawyers, negotiate a series of legal problems. The simulations consist of a common set of facts known by all participants and confidential information known only to the participants representing a particular side. All of the simulations deal with the same general topic, but the negotiation situation varies with each round and level of the competition.