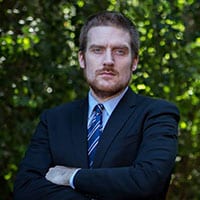 Atlanta's John Marshall Law School (AJMLS) alumnus, Nick Schnyder, has only hired passionate legal minds from his alma mater since opening his firm, Nick Schnyder Law Firm, LLC, in August of 2016. Schnyder's firm experienced rapid growth and turning to his fellow AJMLS alumni for support has enabled the firm to continue taking on difficult and rewarding cases.
The Nick Schnyder Law Firm was pleased to hire Rebecca Rae, Class of 2012 in 2017, and Matthew Nestrud, Class of 2012, in 2019. Prior to attending law school, Rae accumulated over a decade of legal experience as a legal assistant and paralegal, and is also the co-founder of the non-profit, Flashpoint Artists Initiative, Inc., which has donated approximately $100,000 to local charities over the past 13 years. Nestrud graduated top ten in his class from AJMLS, was the Executive Legislative Editor on Law Review, and competed on the Moot Court Team.
Schnyder also graduated top of his class, passed the bar, and began his journey of becoming a personal injury civil litigation attorney in 2011. His determination to fight for justice is both professional and personal as his own family was injured by medical error in three separate incidents giving him common ground with the clients he serves. Since founding his firm, Schnyder became a member of the Georgia Bar Association, the Georgia Trial Lawyers Association, the American Bar Association, and the Cobb County Bar Association. He has also won numerous awards including Top 40 Under 40 from National Trial Lawyers and Georgia Trend's Legal Elite.
The Law School is proud of the success of its alumni at the Nick Schnyder Law Firm and is pleased to share their work fighting on behalf of Georgia's injured families.
About Nick Schnyder Law Firm, LLC – Established in 2016. Experienced personal injury and catastrophic injury attorneys in Atlanta, Georgia.
Are you an AJMLS graduate with exciting news or honors to share? Please email us at marketing@johnmarshall.edu.
*Image courtesy of Nick Schnyder Law Firm