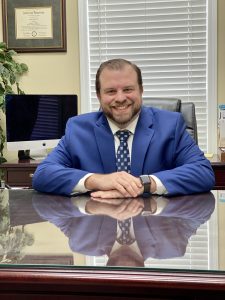 Atlanta's John Marshall Law School (AJMLS) congratulates Judge Vincent A. Lotti, Class of 2010, for his recent appointment to the State Court of Henry County. Judge Lotti will fill the vacancy created by the retirement of Judge Ernest Blount in February. Previously, he had been serving as a Henry County magistrate judge. 
At the Law School, Lotti served as both a Peer Mentor and a Student Ambassador, and was a three time Dean's Award recipient and member of the moot court team. He found that the first two positions allowed him to help younger students get acclimated to law school and the final activity allowed him to be a representative of the law school while gaining "real world" experience. A notable achievement at AJMLS was when he and his moot court team placed in the top four at a national pre-trial competition in Florida. 
Judge Lotti is a lifelong resident of Henry County, graduated from Union County High School, and earned his Bachelor of Arts in Political Science and Government from The University of Georgia. After graduating from the University of Georgia, Judge Lotti went back to his hometown to take a job with the Henry County Juvenile Court as a probation officer. This was his first experience with the legal world and courtroom and he fell in love. After over two years as a juvenile probation officer, he decided to return to law school and enrolled at AJMLS.
When asked of his experience in the juvenile courts, he noted:
"My experience at Juvenile Court made me feel as though I could help more people as their attorney and at the end of the day that was my goal, to help people."
After graduating from Atlanta's John Marshall Law School, Judge Lotti entered private practice and founded his own practice representing clients in criminal cases and family law. This allowed him to meet numerous attorneys and citizens in his county that he did previously know from his upbringing. In 2018, he ran for an open State Court seat but ultimately lost the election. However, he noted that he had a great showing and this led him to be appointed as an associate Magistrate Court Judge.
Judge Lotti said of his magistrate appointment,
"A big reason the Magistrate Court job opened up for me was because of how I treated everyone, including my opponents, during the election. I refused to engage in "dirty politics" and kept everything above board. In fact, my opponent was with the Magistrate Court at the time of the election, became a dear friend throughout the campaign, and was extremely helpful to me as I sought an appointment from the Governor. Ultimately, it all boiled down to treating people the right way."
The Law School wholeheartedly agrees with his final remarks of his interview, when he said,
"It costs nothing, no money nor effort, to be kind to people. Follow the 'Golden Rule' and treat people how you wish to be treated and you will be amazed at how far life will take you."
The Law School is incredibly proud of Judge Lotti's service to the community and outstanding ethics and we look forward to celebrating his continued success.