It is our pleasure to introduce you to Atlanta's John Marshall Law School (AJMLS). Situated in Midtown Atlanta, AJMLS is unmatched in convenience, flexibility in J.D. programs, and supportive administration, faculty, and student body. The law school offers prospective students a range of programs outside the traditional full-time J.D. programs. Our part-time J.D. program is ideal for working adults seeking a legal education; the Honors J.D. in Criminal Justice is designed to cater to students with a strong desire to learn about criminal law from day one; and the accelerated spring entry J.D. program allows students to graduate in 2.5 years! The school also offers three LL.M. programs specializing in employment law and American legal studies. For additional convenience, our LL.M. programs cater to both U.S. and foreign-trained attorneys and can be taken exclusively online or in a classroom setting. Regardless on the program students select, we pride ourselves on providing a student-centered atmosphere in which each student receives personal and specialized attention.
Of all the elements that combine to give AJMLS its special character, the law school takes greatest pride in its student body. Students from across the nation bring their remarkable talents and professional accomplishments into the law school community, creating an environment with serious purpose, social commitment, and the joy of learning the law within a highly diverse group of individuals.
One of our student body's most admirable characteristics is the collective non-competitive nature of the students. There is a sense of learning and working together as a family to reach their goals, rather than competing head-to-head in the classroom.
Under the leadership of our Dean, Malcolm L. Morris, AJMLS continues its mission to prepare highly competent and professional lawyers who possess a strong social conscience, continually demonstrate high ethical standards, and are committed to the improvement of the legal system and society. We invite you to contact an admissions representative at (678) 916-2620 to learn more about the South's up-and-coming law school and/or visit our campus for a tour of our state-of-the-art educational facility. We are building something great here and hope you choose to be a part of it. Students choosing the law as their life's path should choose Atlanta's John Marshall as the place to commence that journey.
Sincerely, The Office of Admissions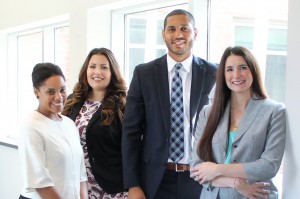 Rebecca S. Milter, Director of Admissions
Hope L. Jamison, Associate Director of Admissions
Marc Reece, Assistant Director of Student Recruitment
Meaghan Eustice, Admissions Counselor
(Pictured L-R: Jamison, Eustice, Reece, Milter)