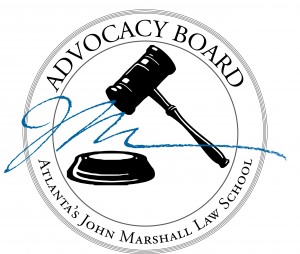 The Atlanta's John Marshall Law School (AJMLS) Advocacy Board is a student-run academic organization dedicated to promoting the art of written and oral advocacy in moot court and mock trial competitions. The Board is governed by its Executive Council.
Professor Loren Pratt, Faculty Advisor
Executive Council
Carolina Melguizo, Chair
Carolina Melguizo was born in Medellin, Colombia, and moved to the United States at the age of 15. With a passion for learning, Carolina earned a B.S. in history and political science from Georgia State University and is currently a part-time student.
In her first year of law school, Carolina earned the CALI award in LWRA I and was invited to join the Advocacy Board. During her second year, Carolina served as SBA representative and competed in the NAAC Moot Court Competition. She has served as a peer mentor since 2021.
Carolina is honored to lead the Advocacy Board as its Chair. She looks forward to increasing the Board's presence in moot court and mock trial competitions. She is excited to be a part of an academic organization that celebrates practical written and oral advocacy.
Grace Gomez, Vice Chair
Grace C. Gomez is the daughter of immigrants, originally from Peru, and the first in her family to attend law school. She moved to Atlanta from Westchester County, New York in 2017 and is a part-time evening student expected to graduate in 2024. She earned her B.A. in Psychology, with a concentration in Sociology, from SUNY Stony Brook University in 2015 and earned her ABA-approved Paralegal Certificate from Marist College a few months before moving to Atlanta in 2017.
Working full-time and going to school part-time has not been an easy feat, however, having a strong support system has allowed Grace to thrive. After completing her 2L year, she accepted an invite to join Atlanta's John Marshall's Law Journal as a Staff Editor and was elected to Advocacy Board's Executive Council as a Vice Chair. She has also been a Student Ambassador for the last year.
She is excited about the opportunity to help create an organization where our members can grow professionally in their written, oral, and legal research skills.
Marquez Jones, Vice Chair
Marquez Jones is a native of Atlanta, Georgia and is currently a part-time student with an expected graduation date of May 2024. He has a degree in Mass Communications and Media Studies with a focus in Broadcast/Journalism.
Prior to law school, Marquez worked in entertainment as a tour manager and agent for artists in the entertainment industry.
Accepting a position as a Vice Chair was a no brainer due to Marquez's strong desire for trial advocacy and appellate court work.
Wendi Lucas, Vice Chair
Wendi Lucas was born and raised in Rome, Georgia where she graduated with honors from Pepperell High School. Wendi attended Kennesaw State University where she graduated cum laude with a B.S. in Political Science with a minor in legal studies. In addition to academic pursuits, Wendi has worked as a paralegal handling countless complex personal injury cases since 2017. Wendi served as SBA class representative her 1L year and currently serves as a peer mentor as a 3L. Wendi accepted the position as a Vice Chair in hopes of furthering Advocacy Board competition opportunities and growing the organization.
In addition to her academic and professional pursuits, Wendi enjoys spending time with her husband and two children.