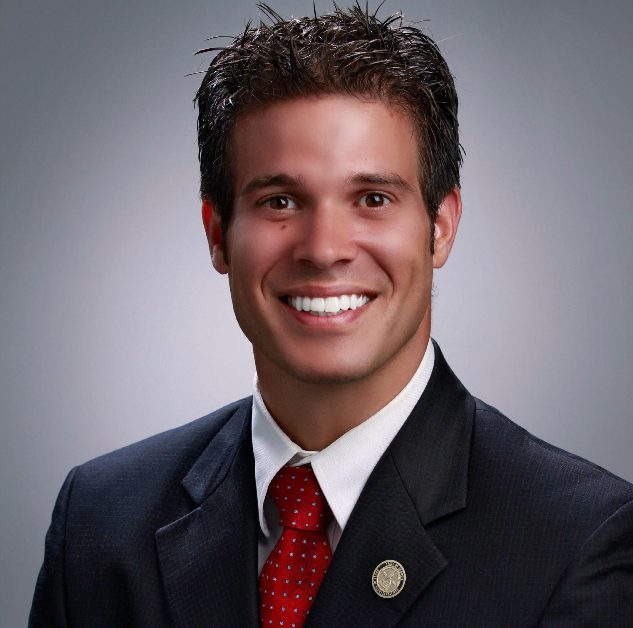 Atlanta's John Marshall Law School (AJMLS) is pleased to announce Judge Dustin W. Hightower, Class of 2008, as the Law School's 2023 commencement speaker. Commencement exercises are scheduled to begin at 1:30 p.m. on May 21, 2023 at the Rialto Center for the Arts – 80 Forsyth St., NW, Atlanta, GA 30303. A live stream of the ceremony will be made available at www.johnmarshall.edu.
"We are delighted that Judge Hightower accepted our invitation to be this year's commencement speaker. His journey to the bench, public service, and philanthropic endeavors are an excellent representation of Atlanta's John Marshall Law School's graduates. We are proud of his success and look forward to welcoming him back."
– Dean Jace C. Gatewood
About Judge Dustin W. Hightower
Judge Hightower was appointed by Gov. Nathan Deal and sworn in as a Superior Court Judge of the Coweta Judicial Circuit on May 26, 2016. Judge Hightower was then elected to serve as a Superior Court Judge by the citizens of the Coweta Judicial Circuit in 2018 and 2022.
Judge Hightower grew up in Carroll County, Georgia where he graduated from Central High School. He then went on to attend the University of West Georgia earning his bachelor's degree in business management, and graduated cum laude. Judge Hightower followed that by attending Atlanta's John Marshall Law School where he received his Juris Doctorate. While in law school, he was selected to serve as Notes and Comments Editor on John Marshall's inaugural law review journal, John Marshall Law Journal, and he was honored by having his comment, Student Searches and Seizures: Georgia's Current Approach and Recommended Change, chosen to be published in the journal.
From 2008 through 2016 Judge Hightower practiced law in his home area of Carroll and Douglas County with his former law firm, Miller & Hightower, Attorneys at Law. The firm focused their practice on personal injury cases, criminal defense, and divorce cases. Further, for over six years during this time, Judge Hightower also served as the city prosecutor for both the City of Mt. Zion and the City of Buchanan.
In January 2012, Judge Hightower was elected to the Georgia House of Representatives where he represented the 68th House District. During his legislative tenure, he received the "Defender of Liberty Award" from the American Conservative Union, and based on his efforts to fight against family violence, the Georgia Commission on Family Violence selected him to receive their "Legislative Leadership Award". Further, in 2015 he was recognized as "Legislator of the Year" for both the Georgia Trial Lawyers Association and Service Providers Association for Developmental Disabilities (SPADD).
In an effort to give back to his community, Judge Hightower has served on the following boards: Carroll County Child Advocacy Center Board, Carrollton Main Street Board, the University of West Georgia's National Alumni Board, and the University of West Georgia's Athletic Foundation Board. In 2012, the University of West Georgia selected Judge Hightower to receive the 2012 Outstanding Young Alumnus Award. Further, in early 2013 he was recognized as a Top 10 Young Professional in Douglas County.
Judge Hightower is married to Christina Camp Hightower. Christina is a high school math teacher. They have two children together, Stella June and Waylon.
Tickets are not required for entry. For general information you can visit our graduation page here and/or our logistics page here for further details.