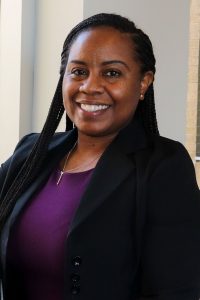 Atlanta's John Marshall Law School (AJMLS) is happy to announce that Dr. J.L. Wyatt has accepted the Director of Career Services position at the Law School, effective February 2021. She is responsible for overseeing all career services operations at AJMLS and is a member of the Career Services and Professional Development team, led by Dr. Bridgett Ortega.
Dr. Wyatt joined AJMLS with more than eight years of experience in higher education, including Career Development and Employer Relations.
"Becoming a part of the AJMLS Career Services team aligned well with my professional background and I have always aspired to work in the field of professional education" said Wyatt. "The flexible program offerings at AJMLS attracted me to the institution since I share the experience of earning a terminal degree while working full-time, like many AJMLS students."
When asked what she wanted students and employers to know, she noted,
"I really view my role as being a professional needs concierge for both students and employers. For students, I am able to provide personalized career development aligned with their areas of legal interest. My job is to anticipate the needs of firms and employers and provide them with access to candidates that meet those needs."
Dr. Wyatt has already set her objectives for the direction of her department:
"I look forward to providing a stellar employer experience, ensuring all AJMLS students achieve career milestones during each year of their program, collaborating with faculty to increase engagement and programming for students, enhancing equity for AJMLS candidates participating in job fairs, partnering with firms to develop signature job fair programs exclusively for AJMLS students, and streamlining the Graduate Employment Survey process."
Wyatt earned her PhD from Mercer University in 2014 where her research focused on the retention of underrepresented students in higher education. In her spare time, she has been writing a self-help book based on popular culture and she looks forward to publishing soon.
Dr. Wyatt may be reached at jwyatt@johnmarshall.edu or (678) 916-2612.