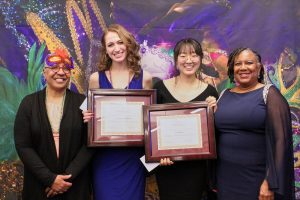 The Atlanta's John Marshall Law School (AJMLS) Public Interest Law Society (PILS) hosted its annual "PILS Auction" on March 11, 2022 at Atlanta Tech Village. The event was a success with more than 100 people in attendance and over 65 live and silent auction items. Notable auction items included an Atlanta United Jersey signed by many members of the team, stay-cations at The Candler Hotel and the Atlanta Marriott Marquis, and a Royal Caribbean Cruise. The fundraising event raised $11,817 for the Renata Turner Award for Public Interest Law. The Award recognizes students who have made an extraordinary contribution to our community through public interest work and who have demonstrated an interest to continue that commitment.
A heartfelt "thank you" to the students, faculty, staff, alumni, friends, and event sponsors that made this year's event one to remember. See you next year at PILS Auction 2023!
From the PILS Society President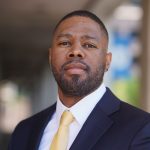 Our Atlanta's John Marshall Law School Community,
The Year of The Phoenix! The name that I have given this year for the Public Interest Law Society (PILS). As a reactivated student organization that was dormant for a number of years, the Board and I had our work cut out for us. Not only were we working to establish ourselves as a respected presence on campus, but we also had to make students aware that we were back and ready to be of service. The difficulty of gaining awareness was compounded by us having to return to remote learning for several weeks, shortly after the academic year began.
Nonetheless, the Board and I refused to lower our initial goals and expectations. We knew that our law school community missed PILS. We also knew it was necessary to get the organization back up and going. Public service was needed.
PILS ended the year with over 25 active members. In addition, our social media had significant engagement; one of our videos arguably may be considered to have gone "viral" as the views and comments came in abundance almost immediately after publicly posting it.
Further, our big, culminating event was the 2022 PILS Auction. The AJMLS community, both past and present students, faculty, and administrators, attended in person and showed their support. These groups showed up to the auction in the spirit of the "Masquerade" theme or quickly got into it as soon as they arrived by adorning complimentary masquerade masks. Those who were not able to attend the event donated and sent words of encouragement. The support was massive! We raised almost $12,000 for the next recipients of the 2023 Renata Turner Award!
On behalf of PILS, we want to thank you for your enthusiastic support and belief in our organization and its mission. Our minds are already dancing with thoughts and ideas to make a bigger and better impact next year, as well as how we may host an auction that will have the uphill challenge of topping the most recent one.
PILS is back! Rising from its ashes like the phoenix. Now, PILS is well-positioned to be here to stay! This accomplishment is because of you.
Thank you!
Sincerely,
Carlton 'Cal' Lewis
President, Public Interest Law Society
2022 Renata Turner Award Recipients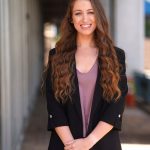 Allyssia Andrews
Our healthcare system is extremely broken and so many people are being victimized by an institution that is necessary for a healthy life, thus my interest in helping others through health care law came about and I am currently pursuing internships in this field. Being awarded this scholarship has blessed me with the opportunity to be able to fully engage in my public interest work this summer. If we want to see true change in this system we have to do everything we can to fix it, and this scholarship will allow me to continue my journey as an advocate for others.
I want to thank everyone who made this scholarship possible. I am so grateful for this support and will do everything in my power to ensure that others will also benefit from it through my service this summer.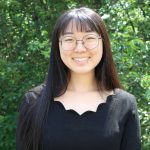 Esther Ko
I plan to use the Renata Turner Scholarship to fund my unpaid summer internship at Georgia Legal Services Program in Gainesville. This scholarship will help with my transportation to and from the office as well as giving me a hopeful assurance of being free from financial constraints. I want to personally give a gracious thank you to all the donors who made this possible. Funding for students pursuing a career in Public Interest Law is not easy to obtain, but because of all the wonderful donors of the Renata Turner Scholarship, I am able to adamantly pursue my career in Public Interest Law.
2021-2022 Public Interest Law Society Officers
President – Carlton 'Cal' Lewis
Vice President / Treasurer – Allyssia Andrews
Secretary – Tishana Springer
Historian / Special Events Chairwoman – Esther Ko
Engagement, Recruitment/Retention Director – Daniela Martinez
Outreach Committee Chairman – Darryl Ford II
Academic Chair – Dean Moore
Faculty Advisory: Dr. Bridgett Ortega
2021-2022 Georgia Association for Women Lawyers Officers
President – Sharon Hansrote
VP – Ashley Starnes
Treasurer – Wendy Carlyle
2022 Sponsors
Blue & White Level
David Windecher ('12)


Blue & White Level
Danielle Whittaker ('18)


Blue & White Level
Sharif Fulcher ('18)