Congratulations to this year's graduates! On May 18, 2019, Dean Malcolm L. Morris presided over Atlanta's John Marshall Law School's 2019 graduation at the Georgia World Congress Center. It was a day full of excitement and anticipation as 102 law students received their juris doctor degree. Dean Malcolm L. Morris began the commencement with a welcome speech and awards ceremony, and followed up with an introduction for this year's commencement speaker, Congresswoman Lucy McBath.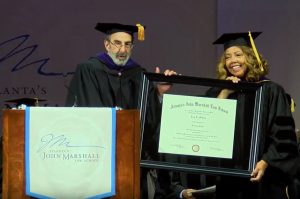 Congresswoman Lucy McBath delivered the commencement keynote address. She both challenged and inspired the graduates to go above and beyond their daily lives to make meaningful contributions to others. With a father who was a leader in the NAACP and a mother, a registered nurse that helped tutor students, Congresswoman McBath was raised with a commitment to public service. She attended many marches alongside Dr. Martin Luther King, Jr. to support the civil rights movement. She has testified at state hearings, interacted with lawmakers and activists, lobbied members of Congress, and spoken before both the Senate Judiciary Committee and the White House Summit on Educational Excellence for African Americans. Following a personal family tragedy, Congresswoman McBath became a national spokesperson for both "Everyone for Gun Safety" and "Moms Demand Action for Gun Sense." The entire Law School community was honored to have her be the commencement speaker and was inspired by her words.
In addition to our keynote speaker, this year's valedictorians, Jarrett L. Miller (full-time division) and Jilian A. Sheridan (part-time division), gave brilliant remarks to their fellow colleagues and guests.
Jarrett Miller:
Growing up with a preference to playing sports, Jarrett Miller never saw himself as the type to attend law school. However, after getting married, working as a police officer, and deploying with the Army he took on a whole new mindset and became determined to do the best that he could. He became obsessed with law, enrolled in Atlanta's John Marshall Law School and became actively involved with his classes and extracurricular activities.  Outside of studying for his classes, Miller spent a year involved with law journal, became a research assistant for a year, and did mock trial for a semester. He graduated summa cum laude and valedictorian.
When asked how it felt being valedictorian, Miller stated that he was very thankful, partly because he felt his efforts were vindicated and partly because it felt like a blessing from God. He then went on to give advice to students stating that, "Personal responsibility is a must if you are to succeed…It's your life, and your career, no one else is responsible for it. So if you are a 1L or 2L, please try to understand that you get out of this what your put into it…Accept responsibility for every facet of your life…But don't worry, it is very possible to do well; just get in the library and start working!"
Jilian Sheridan:
Having worked as a paralegal for a trial attorney for approximately four years and with a one-year old daughter, Jilian Sheridan decided to enroll in the part-time program at Atlanta's John Marshall Law School. Through this program she was able to find a supportive community of students with similar struggles who understood the difficulty in finding a balance between outside responsibilities while pursuing the dream to become an attorney. Sheridan was a part of the December 2018 graduating class and therefore she was able to take the February bar exam. The day before law school graduation she found out she had passed the exam! She graduated magna cum laude and valedictorian.
When asked how it felt being valedictorian, Sheridan stated that: "As a working mother, it felt empowering to be the Valedictorian for my law school class.  There is no question that you can be the parent you want to be and still pursue your legal dreams."
Congratulations to all of the graduates! We are so excited to see all that you are going to accomplish!
A copy of the full program of the commencement exercise, which includes all student awards, can be found here.