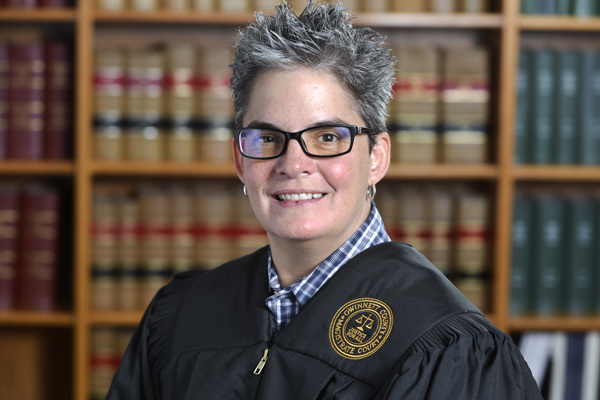 Atlanta's John Marshall Law School (AJMLS) is pleased to announce Judge Angela Duncan, Class of 1996, as the Law School's 2021 commencement speaker. Commencement exercises are scheduled to begin at 1:30 p.m. on May 22, 2021 at the Atlanta Marriott Marquis Atrium Ballroom – 265 Peachtree Center Avenue, Atlanta, GA 30303. A live stream of the ceremony will be made available at www.johnmarshall.edu. Due to a cancelled event in 2020, this year's commencement welcomes graduates who finished their degree December 2019 through May 2021.
"I am honored that Judge Duncan accepted our invitation to be this year's commencement speaker. Her background and rise to the top of the legal profession are emblematic of the quality of legal professional Atlanta's John Marshall Law strives to create. We are truly proud of her success."


– Dean Jace C. Gatewood
About Judge Angela Duncan
Judge Angela Duncan was appointed the 11th Superior Court Judge for Gwinnett County in 2019. Gwinnett County is Georgia's second largest county and this position was created by Governor Brian Kemp to assist in the increasing caseload. Duncan was Gwinnett's first openly gay Superior Court judge as she joins a handful of other officials who are members of the LGBTQ community and hold high profile positions in the county.
Judge Duncan has worked as a Gwinnett County Magistrate Court judge for the past 15 years and was the chief judge for the city of Chamblee's municipal court at the time of her appointment. She earned her bachelor's degree in criminal justice from North Georgia College and served in the U.S. Army Reserves from 1987 to 1995.
Duncan attended AJMLS part-time attending both day and night classes while also maintaining a full time job. Throughout her study, she sought to experience different areas of law by working at a different firm each year of law school. She learned every aspect of private firms, from working in the file room to becoming a law librarian assistant and court runner. She also experienced many different law practices prior to graduation, from labor law and appellate work to personal injury and criminal defense.
It was during her third year of study, and work at the former Gambrell and Stolz, that her interest was piqued in serving on the bench. Irwin W. Stolz, Jr., who served on the Georgia Court of Appeals from 1972-1977, was an excellent mentor and teacher during her employment at the firm.
When asked what it meant to return to her alma mater in this capacity, she said,
"It is an honor to be asked to come back and be the 2021 Commencement Speaker. Never did I believe as I gave my sweat and tears to the halls of AJMLS that I would receive this honor. It is amazing to see how AJMLS has grown over the years since I have graduated. I am so proud of what the school and its alumni have accomplished over the years."

– Judge Angela Duncan
Tickets are required for entry and the ticket window has closed. For general information you can visit our graduation page here and/or our logistics page here for further details.