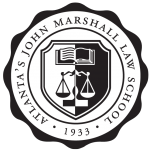 Atlanta's John Marshall Law School is pleased to announce that the Council of the Section of Legal Education and Admissions to the Bar of the American Bar Association at its recent meeting found that the Law School demonstrated full compliance with the ABA Standards. The Law School has continuously been an approved ABA law school since 2009. The Law School recently took specific measures to ensure its compliance with the ABA Standards while continuing to meet its mission, viz., providing legal education opportunities to both traditional and non-traditional students.
"We at Atlanta's John Marshall Law School are proud of our students and graduates, and remain committed to their success in law school and the practice of law," said Malcolm L. Morris, Dean and Professor of Law at Atlanta's John Marshall. "The Law School now plans to convert to a non-profit institution that will further strengthen its relationship with the community it serves."
Over the last two academic years, the Law School increased its entering class 75th percentile LSAT score by three points to 152, its median score by four points to 150, and its 25th percentile by three points to 147. The Law School's Georgia Bar Exam first time pass rate also increased over the past two years by 28% for the July administrations.
Located in one of America's most vibrant cities, Atlanta's John Marshall Law School is proud to continue to provide access to a high-quality program of legal education, and maintain a flexible program of full-time and part-time study for all qualified applicants.