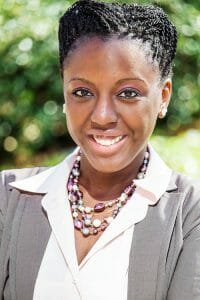 Atlanta's John Marshall Law School (AJMLS) alumna, Fallon McClure, currently serves as the Georgia State Director for Spread the Vote. McClure graduated from AJMLS in 2014, and her path to Spread the Vote is an inspiring one to share.
After graduating from Georgia State University with a B.A. in History, McClure started in public service on the other end of the 911 line working as an Emergency Communications Officer for Cobb County. Inspired by family to pursue legal education, McClure enrolled in law school out-of-state. Soon after, she felt called back to family and began her full-time career as a paralegal in Atlanta.
McClure transferred to Atlanta's John Marshall Law School and completed her J.D. studies in the part-time evening program at AJMLS while maintaining her full-time job as a paralegal during the day and also starting a family. Through both the on-campus Career Development Office and the Office of Experiential Learning, McClure completed an internship in private practice and also an externship at a District Attorney's office in Atlanta.
After graduation, McClure began working at the ACLU of Georgia as the Special Assistant to the Executive Director and then later became the Policy Advocate. Working at the ACLU allowed her to help organize and empower communities with the tools to advocate for themselves, and in doing so, helped her define that community outreach was her passion.
McClure transitioned to become the Georgia State Director for Spread the Vote where she has been able to help bring immediate change to Georgia communities while also maintaining a caseload of criminal defense cases. The mission of Spread the Vote is to help obtain government-issued photo IDs for eligible voters. They are building a scale-able and sustainable way to help voters get the IDs they need for job, housing, voting, and healthcare needs.* Spread the Vote is actively expanding and currently has state chapters in Virginia, Georgia, Tennessee, Florida, and Texas, and Georgia chapters in Athens, Atlanta, Cobb County, Dekalb County, Henry County, South Cobb/Paulding Counties, Albany, Gwinnett County, Rome, Columbus, and Macon.
The Law School is incredibly proud of Fallon's dedication to her education and service to communities in Georgia and we look forward to celebrating her continued success.