On Saturday, May 21, 2022, Atlanta's John Marshall Law School (AJMLS) will present The Distinguished Alumni Award to two incredible alumni at the 2022 commencement ceremony. This year's honorees are Judge Ashley Drake, Class of 2011, and Judge Rhonda Kreuziger, Class of 2001. The Distinguished Alumni Award is presented to alumni who have obtained distinction in their professional careers. Those honored share the same characteristics of leadership, progressive thinking, high standards, uncompromising integrity, commitment, courage, and confidence. Their careers serve as models for Atlanta's John Marshall Law School students and alumni. Click here to view past award recipients.
Honorable Ashley Drake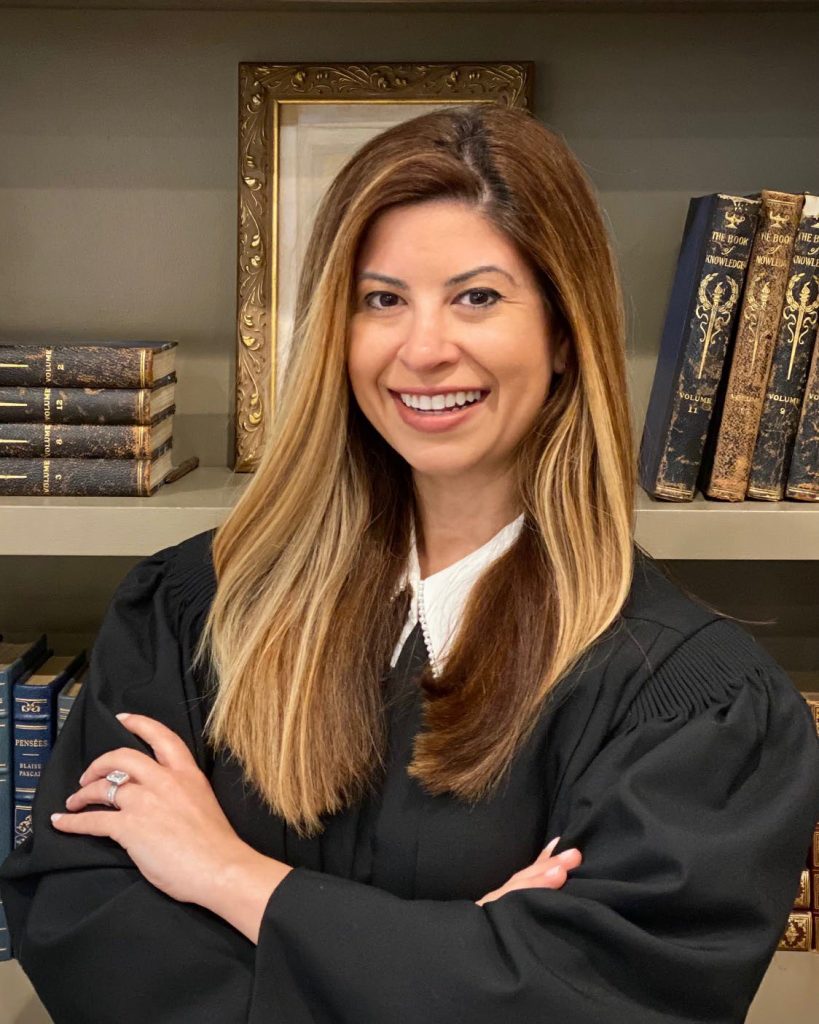 Judge Ashley Drake was born in Atlanta, Georgia and graduated from Georgia State University with a B.A. in Journalism. She graduated in the top 15 of her class at Atlanta's John Marshall Law School and was a member of the moot court team where she competed nationally. She served on the Atlanta's John Marshall Law Journal where her legislative summary was published in 2011 and was the student founder of the Law School's mentorship program. She also received the CALI Award for Immigration Law and received academic scholarships from Just the Beginning Foundation and the Georgia Association for Women Lawyers Foundation.
Judge Drake began her legal career as a prosecuting attorney for the Fulton County Solicitor General's Office and eventually transitioned to prosecuting felonies for the DeKalb County District Attorney's Office as an Assistant District Attorney. As a criminal prosecutor, she gained a significant amount of trial experience and helped thousands of crime victims.
After years of criminal prosecution, Judge Drake left the criminal arena and entered a new area of practice: civil litigation. She started her civil practice career at Bey & Associates, LLC as an Associate Attorney in the litigation section, handling various personal injury matters. She eventually worked her way to becoming the lead associate on the partner's team, representing victims and their families in medical malpractice, wrongful death, and trucking litigation cases. During this time, she flew to Washington, D.C. twice to lobby Congress on both sides of the aisle regarding the unconstitutionality of mandatory arbitration clauses in civil practice, in hopes of preserving and protecting our 6th amendment right to a trial by jury in civil cases. She successfully completed the prestigious ATLA Ultimate Trial Advocacy Course: Art of Persuasion at Harvard Law School in Cambridge, MA and was a featured panelist at the American Association for Justice Women's Caucus in Denver Colorado.
In 2020, Judge Drake joined two of her best friends from law school at Bader Scott Injury Lawyers where she served as a Captain overseeing other Personal Injury Attorneys. She was appointed to the bench as a full-time Magistrate Judge in May 2020 by Fulton County Magistrate Court Chief Judge Cassandra Kirk. She presides over criminal and civil cases in Georgia's most populated county and is the first female judge of Persian heritage in Georgia.
Judge Drake is a group leader for her local Georgia Association for Women Lawyers (GAWL) mentoring circle and serves on the Board of Directors for the Atlanta Bar Association Women in the Profession Section. She also serves on the Technology Committee for the Fulton County Magistrate Court and is co-chair of the Awards Committee for the Georgia Council of Magistrate Court Judges. She also serves as a mentor for law students, including her nominator, Mr. Carlton Lewis.
Judge Drake resides in Atlanta with her husband and dog. She keeps a copy of the Georgia Bar Association General Aspirational Ideals on her desk and lives by the ideal that: "The dignity and the integrity of our profession is an inheritance that must be maintained by each successive generation of lawyers."
Honorable Rhonda Kreuziger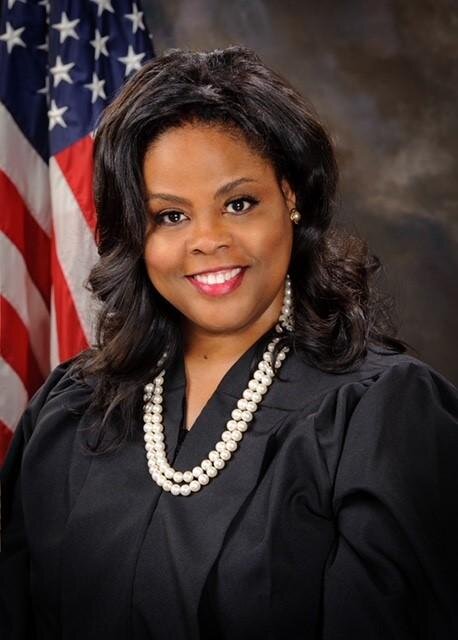 Rhonda Bender Kreuziger is a Superior Court Judge in the Griffin Judicial Circuit which covers Fayette, Pike, Spalding, and Upson Counties. She received a law degree from Atlanta's John Marshall Law School in December of 2000, and a Bachelor of Science in Microbiology from Northwestern State University in Louisiana in May of 1991. Prior to becoming an attorney, she worked as a Forensic Serologist with the North Louisiana Criminalistics Laboratory, in Shreveport, Louisiana, and as a Forensic Toxicologist for SmithKline Beecham Clinical Laboratories in Dallas, Texas. During her last semester of law school, she completed an externship in the Special Prosecution Division for the Office of the Attorney General for the State of Georgia.
After law school, she worked as an Assistant District Attorney in the Griffin Judicial Circuit where she prosecuted felony, misdemeanor, and juvenile matters for Fayette, Pike, Spalding, and Upson Counties from approximately 2002 until 2006.
In 2006, she left the District Attorney's Office to start her private practice, The Kreuziger Law Firm, P.C. During this time, she also served as Solicitor for the City of Senoia, Solicitor for the Town of Tyrone, and subsequently as a conflict defense attorney for the Georgia Public Defender's Council in the Griffin Judicial Circuit. In her private practice she represented litigants in the following matters: Criminal Law – both felonies and misdemeanors in Superior, State, Juvenile, Magistrate, and Municipal Courts throughout the State of Georgia and handled matters pro hac vice in Florida; Family Law/Domestic Relations matters, including but not limited to, divorces, child custody, child support, legitimations, contempt actions, temporary protective orders, and, modifications; Personal Injury related cases; Landlord/Tenant matters; Breach of Contract cases; and Criminal and Civil Appeals to both the Georgia Court of Appeals and the Georgia Supreme Court.
She was appointed as Interim Judge for the City of Fayetteville Municipal Court from July 2018 until December 2018 and subsequently appointed to the position of Chief Judge for the City of Fayetteville Municipal Court on January 2019 and served in this capacity until August 2020, when she was appointed by the Griffin Judicial Circuit Superior Court Judges and the Presiding Juvenile Court Judge to be the full-time Associate Juvenile Court Judge.
In July of 2021, Governor Brian Kemp appointed her to the Superior Court for the Griffin Judicial Circuit, and she was sworn in on August 17, 2021. Judge Kreuziger is the first woman and first person of color to serve on the Superior Court bench for the Griffin Judicial Circuit. She is a member of the Fayette County Bar Association; Spalding County Bar Association; Georgia Council of Superior Court Judges (CSCJ); Georgia Association of Women Lawyers; Federalist Society; Gate City Bar Association – Judicial Section; Atlanta Lawyer's Club; State Bar of Georgia; State Bar of Wisconsin; and, Save R Kids, International, Board of Directors (2017 – 2020). She is also a former member of Georgia Council of Juvenile Court Judges (CJCJ) and National Council of Juvenile and Family Court Judges (NCJFCJ).
She has also served as a presenter to the Fayette County Bar Association – "Preamble – A Great Place to Start! (Preamble to the Model Rules of Professional Conduct)" (February 2022); Thomaston-Upson County Civic Center 1st Annual Black History Month Honoree (2022); recognized by the Mayor of Fayetteville and City Council for "Exceptional Service to the City of Fayetteville" (2020); Leadership Academy for the Georgia Association of Women Lawyers, 2009; Guest Instructor for the DUI Case Preparation and Courtroom Presentation at the Georgia Public Safety Training Center (2009 – 2011); CLE presenter – "How to Try a Case in a Conservative Jurisdiction – The Importance of Understanding Venue" (2010); CLE presenter – "Preparation and Investigation of a Criminal Case" (2011); Judge for the NCFCA Speech and Debate Competition (2012); State Bar of Georgia Transition into Law Practice Program, Mentor (2010 – 2011); Youth Challenge Academy – Mentor (2013 -2014); AV Pride Career Exploration Program Internship Program – Mentor (2013 – 2014); Regional Mock Trial Competition Judge (2015 and 2022); and, The Atlanta's John Marshall Law School Award for Outstanding Service to School and Community Recipient (2001).