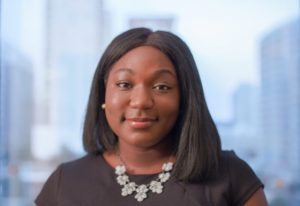 Atlanta's John Marshall Law School (AJMLS) 2016 alumna, Antonette Igbenoba, recently accepted a position at Ernst & Young (EY) with a focus in data privacy, an area of law she is most passionate about.
After receiving her Theatre B.A. from Penn State University, Igbenoba began the next journey towards her career: law school. Her degree along with her passion for public service helped drive her towards attending AJMLS. While at AJMLS, Igbenoba became actively involved in her courses and extracurricular activities. Outside of classes, she taught Sunday school to elementary kids, did community service projects at Atlanta Mission through the Christian Legal Society, and was a member of the Black Law Students Association. In addition to her volunteer work, she actively networked with data privacy professionals in order to learn more about the industry and how she could excel in her career. Igbenoba obtained an externship with a technology law firm where she was exposed to new legal experiences and, as a result, fell in love with the data privacy and cybersecurity law industry.
"My favorite part about the job and data privacy law is the creativity that my position allows," said Igbenoba. "Data privacy in many ways reminds me of art, it is flexible and there is always new technology being created and new challenges to step-up to."
After taking the bar, she took a leap and founded her own data privacy and security consulting firm called "The Privacy Source LLC." Here, she was able to gain hands-on experience building data privacy programs for startup eCommerce businesses and helping them comply with necessary data privacy laws.
After several months of building up her portfolio through her firm, Igbenoba applied for a position with EY's Cybersecurity Practice and, following a lengthy interview process, was offered the job. Through all of the hard work and dedication put towards an industry she is passionate about, Igbenoba is now able to develop new processes and procedures for EY's clients in order to help them comply with data privacy laws. She is also able to utilize her knowledge of the industry and help shape the future.
"Privacy is amazing because America has no federal privacy law (in America we have a sectoral approach to privacy e.g. HIPPA applies to Healthcare data matters)," said Igbenoba.  "Congress is currently in the process of brain-storming a federal privacy law, so the government frequently has public sessions and inquires to get input from data privacy professionals, in essence, I have a route available to help craft beneficial and necessary policy!"
Outside of work, Igbenoba finds herself staying busy by getting involved with her community. Currently, she is a Civic Fellow with Hands on Atlanta where she leads a service project that works to combat food insecurity in the Atlanta area. (For more information on her upcoming events, visit the website here)
When asked if she had any advice for aspiring attorneys, Igbenoba gave two points to those chasing their dreams. The first is to, "Do what sets your heart on fire. Go exactly after your passion, what makes you happy, or what brings you fulfillment." The second is, "Focus on yourself! This is your unique life and your unique journey! Everyone's path differs, if you're too focused on getting the approval, thumbs up, or support from others, you're wasting your time."
The Law School is incredibly proud of Antonette's dedication to the community and we look forward to celebrating her continued success.