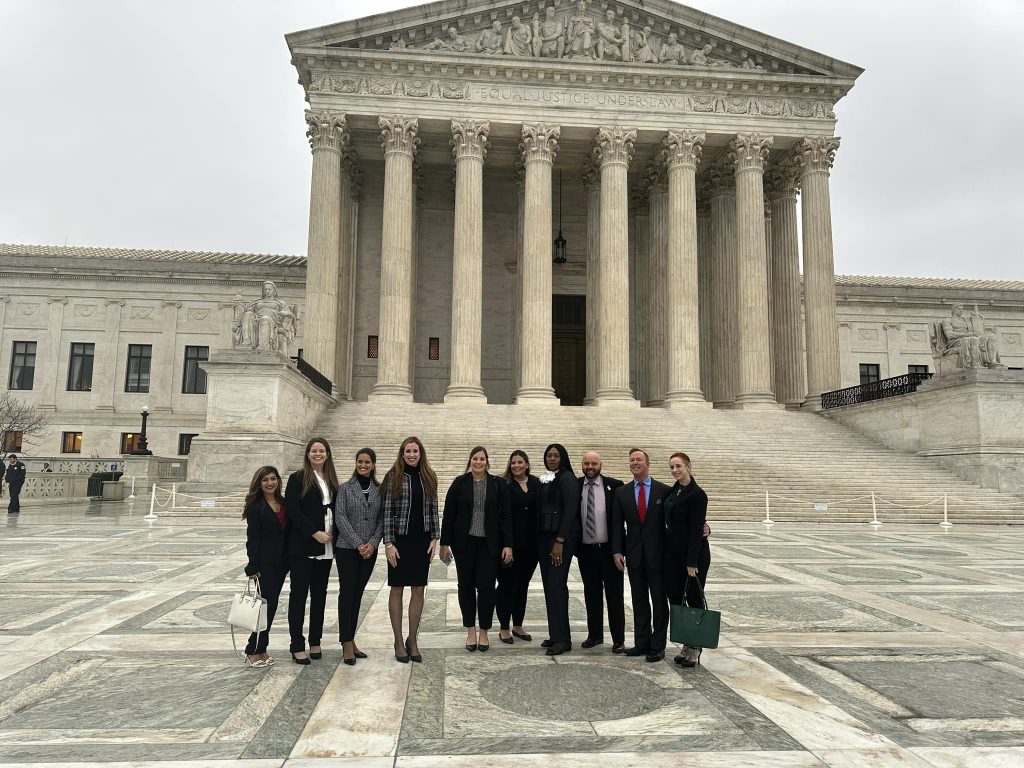 On December 7, 2022, Director of Alumni Relations, A.J. Doucett, moved for nine Atlanta's John Marshall Law School (AJMLS) alumni to become members of the Supreme Court of the United States (SCOTUS) Bar. To be sworn into the Court, an attorney must have been sworn into the highest court in the state in which they are licensed for at least three years and be in good standing with that court. Those who were sworn in were: Lisanne Edelman ('17), Meaghan Eustice ('15), Randy Fry ('99), Jennifer Gore-Cuthbert ('12), Fernanda Hottle ('10), Shilpa Jadwani ('12), Megan McClinton ('13), Calina Plotkey ('12), Mary-Anne Uzoka ('14).
The applicants arrived at the SCOTUS with their guests and were escorted to the Natalie Cornell Rehnquist Dining Room, where they had a chance to mingle with each other and have their photos taken. Applicants and guests were escorted in shortly before the Court was gaveled into session. Doucett was called to the rostrum where he moved for the applicants to become members of the SCOTUS Bar, the applicants arose as they were called, and took the oath administered by the Clerk of the Court. After being sworn in, the newly admitted attorneys and guests remained in the courtroom to hear the case of Moore v. Harper. This case will have major implications on the States' Legislatures' power to determine the "time, place, and manner" of elections and the States' Supreme Courts' oversight.
Later that evening, the new bar members and their guests met at The Old Ebbitt Grille for appetizers and a celebratory toast to their accomplishment. Despite rain clouds throughout the day, everyone raved about this once-in-a-lifetime experience. AJMLS will continue to offer this trip annually to the alumni of Atlanta's John Marshall Law School and Savannah Law School in late fall/early winter. Registration information will be announced in the alumni newsletter and will be first come first served once the application period opens. If you are not receiving the newsletter, please notify A.J. Doucett by email to be included in the distribution.