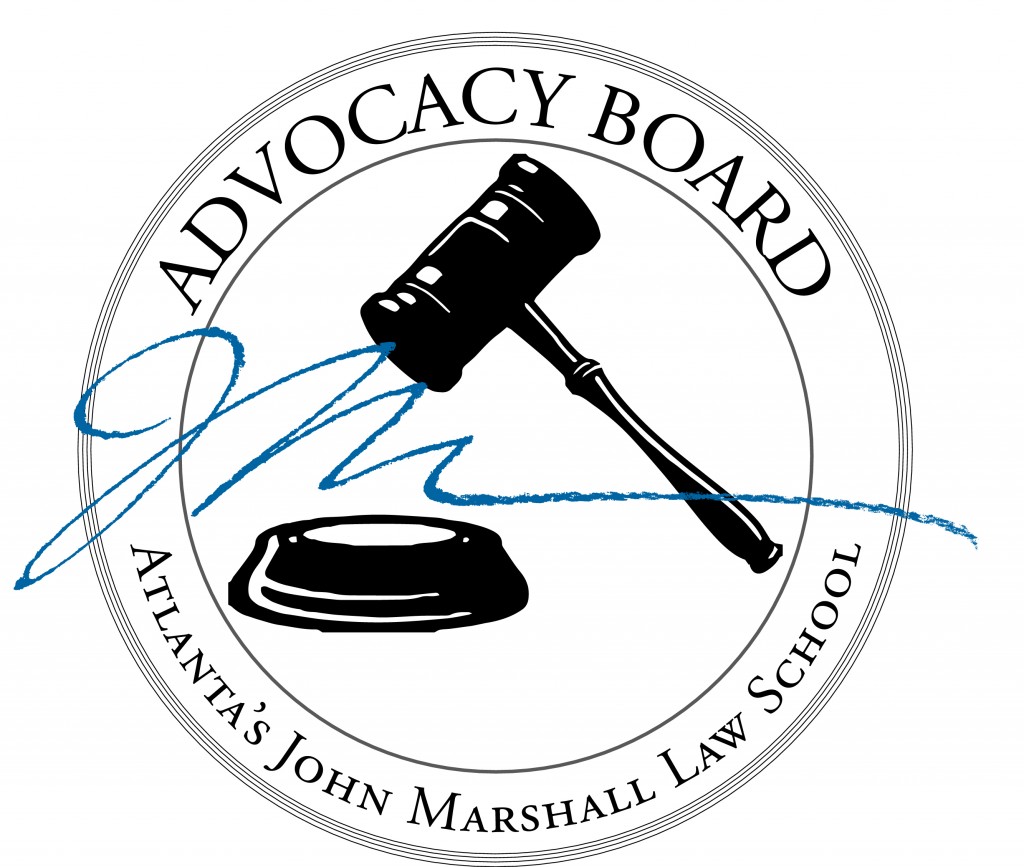 Membership
All full-time and part-time students enrolled at Atlanta's John Marshall Law School (AJMLS) with a cumulative GPA of 2.5 are eligible for admission to Advocacy Board. A student may receive an invitation to the organization by successfully competing through the G. Alan Blackburn Moot Court Competition or the Richardson Lynn Moot Court Competition, which is the intra-school competition held before the start of the fall semester.
Executive Board
Edward Hardrick, Chair
Edward Hardrick was born in Birmingham, Alabama and raised in Georgia most of his life. After graduating from Grayson High School, he earned a B.S. in Political Science from the University of North Georgia and was commissioned as an officer in the U.S. Army Georgia National Guard as an artillery officer. Just prior to enrolling into law school, Edward completed several training assignments with the U.S. Army at Ft. Sill, Oklahoma, Ft. Polk, Louisiana, and Ft. Stewart, Georgia.
Edward matriculated into the Law School in the Fall of 2017. Subsequently, Edward took military leave from Fall 2018 until Spring 2020 to deploy to Afghanistan where he served as an Infantry platoon leader and Fire Support Officer earning the Bronze Star Medal, Army Commendation Medal, Army Achievement Medal, and Combat Action Award for service during the deployment. Upon returning to the law school in the Spring of 2020, Edward served as Student Bar Association Vice President, earned a CALI Award for Legal Writing, began work as a Student Associate at an Atlanta-based law firm, and received invitations to join Moot Court and Law Journal. Edward was excited to be chosen to lead the Advocacy Board as its next Chair. As he prepares to graduate this upcoming December, Edward is excited to help Moot Court position itself for a successful competition semester in the Spring and ensure its continued success in the coming years.
Bethany Keyes, Vice-Chair
Bethany Keyes is from middle Georgia and is currently a part-time day student at Atlanta's John Marshall Law School with an expected graduation date of December 2022. She has a degree in Business Administration and a degree in Political Science with a concentration in Pre-Law. 
Prior to law school, Bethany volunteered with a social media group to help alleviate poverty within her local community. Since August 2021, she has worked as a Student Associate at a law firm located in Atlanta, Georgia. 
Bethany honorably accepted a Vice-Chair position on the Advocacy Board because she has always had a passion for the law, helping others, and advocating. Further, this opportunity will allow her to collaborate with peers and refine her research, editing, and writing skills. 
Mats Rosen, Vice-Chair
Mats Rosen, a full-time 3L student at Atlanta's John Marshall Law School, is from Glenwood Springs, Colorado. He graduated from Colorado State University in 2017 with a B.A. in Sociology along with a B.S. in Human Development and Family Studies. Mr. Rosen has always had a passion for learning and excelling in whatever position he asked to serve in. Helping others in times of need has been the mission that he seeks to carry out, a mission he assisted with during his time as an intern at the Sexual Assault Victim Advocate Center in Fort Collins, Colorado. Mr. Rosen hopes to take the experiences that he has learned from that organization and law school and apply those skills in his role as an attorney.
He has earned CALI Awards in Contracts I, Civil Procedure I, Criminal Procedure, and Legal Writing, and Research Analysis III and is also one of the Line Editors on the Law Journal. Upon completion of his second year, Mr. Rosen was invited to join the Moot Court Appellate Advocacy Board. He sought a position on the Executive Board to assist with member recruitment and retention to further grow the organization as he begins his transition from law school to legal practice.
Michael Stewart, Vice-Chair
Michael Stewart is originally from Warner Robins, Georgia and grew up in the Houston County school system. After high school, Michael attended Kennesaw State University where he participated in three campus choirs as well as the Phi Mu Alpha Fraternity. Michael earned a B.S. in Criminal Justice from Kennesaw State University in December 2018 before beginning at Atlanta's John Marshall Law School in the Fall of 2019.
In his spare time, Michael is heavily involved in the theater industry of Georgia including serving on the Board of Governors of a non-profit and community theatre in Perry, Georgia and serving as adjudicator for the Georgia High School Musical Theatre Awards (Shuler's). Michael is very excited to get more involved in extra curricular activities at Atlanta's John Marshall and is looking forward to a great year serving as Vice-Chair of Moot Court.
Joshua Elbaz, Fundraising Chair
Joshua Elbaz was born in Atlanta, Georgia and raised in Suwanee, Georgia for most of his life. After graduating from North Gwinnett High School, he earned a B.A. in Business Administration from Georgia Gwinnett College.
Joshua entered Atlanta's John Marshall Law School in the Fall of 2019 with high hopes and a lot of ambition. During his 1L year, Joshua began interning with attorney Lawrence Lewis with hopes of becoming familiar with the field of Criminal Defense and trial work. Joshua had continued to intern with Attorney Lawrence Lewis throughout his law school journey and has participated in close to 10 jury trials since he began law school. Joshua served as an SBA representative during his 1L year, and as a Peer Mentor Director during his 2L year. Joshua founded the Student Trial Lawyers Association (STLA) during the summer of his 2L year with the hopes of helping and guiding other law students who want to be trial lawyers after school. Joshua currently sits on the executive board for Moot Court, which he was invited on, as well as The Student Trial Lawyers Association, which he founded.