After over 25 years of distinguished service and leadership, Dr. Michael C. Markovitz has announced his retirement as Chairman from the Atlanta's John Marshall Law School (AJMLS) Board of Directors.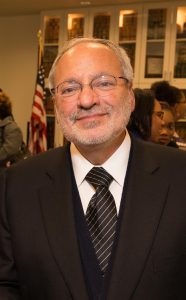 A lifelong champion of education, Dr. Michael C. Markovitz was the founder of the American School of Professional Psychology (formerly Illinois School of Professional Psychology), the founding Chairman of Argosy Education Group, and served as the Chairman of Yorkville University Board of Governors. He is a member and past Chairman of the Visiting Committee to the Social Sciences at the University of Chicago and a retired member of the Board of Trustees of Eckerd College in Florida.
Upon reflection of Dr. Markovitz's time at AJMLS, Dean Jace C. Gatewood said, "In a career exemplified by visionary leadership, unwavering commitment, and an enduring passion for legal education, Dr. Markovitz has been the bedrock upon which many of the school's successes have been built. His impact reaches far beyond the walls of our institution. Under his guidance, the school has attained new heights in educational excellence, community involvement, and academic reputation."
He went on to say, "His accomplishments are innumerable, but perhaps most notable among them is his role in steering our institution toward becoming an inclusive, student-centered, and socially responsible hub of learning. Dr. Markovitz has been a beacon of integrity and a stalwart champion of justice and opportunity for all."
As the first Dean under Dr. Markovitz's leadership in the late '90s, Dean Robert D'Agostino remembered with pride, "In 1996, only two people thought John Marshall Law School could not only survive but flourish. Dr. Markovitz proceeded to put the full resources available to him, including substantial funds, behind his determination to see JMLS survive and become an important addition to legal education. Without Dr. Markovitz's commitment, Atlanta's John Marshall Law School would not exist today."
Serving as Dean from 2006 to 2014, Dean Richardson R. Lynn said, "I enjoyed working with Dr. Markowitz because he is smart, generous, has a good sense of humor, and asks questions that lead to better results. He was frequently skeptical of academic traditions and faculty prerequisites, but only if he didn't see how they resulted in better teaching or promoting the law school's mission. Michael made it possible for us to win ABA accreditation and recruited an outstanding Board. I wish him the best with all his projects in retirement."
Dean Malcolm L. Morris, immediate past Dean and current AJMLS Board member, recalled "It has been my good fortune to work with many people in legal education over the last 45 years. Some stand out from others based upon their view that the best interests of students must be served above all else. Dr. Markovitz sits atop that list. His commitment to that principle has served many of our alumni well. He can take pride in all of the lawyers and the people they have helped because of his leadership at Atlanta's John Marshall Law School."
A note from Dr. Markovitz:
"As my 50 year career in higher education comes to close, as all careers eventually must, I will say I am most proud of what we all together have accomplished in Atlanta. All together, because there are many fingerprints on the law school's success. We have come from an unaccredited place where our very continued existence was in doubt, to a place where we now have a respectable bar passage rate and good relationship with the American Bar Association (ABA) as a fully approved and thriving law school. The very first time I represented myself in court was when I went to see Justice Leah Sears in 2001 to ask for her agreement to allow the law school more time before the Georgia Court forced the law school to close. She said, "Atlanta needs John Marshall Law School, but John Marshall Law School needs to be better."
"Justice Sears, I can report we have made it better."
Dr. Markovitz received his Bachelor of Science degree from the City College of the City University of New York (CCNY), and earned both his Masters and Doctoral degrees in Biological Psychology from the University of Chicago.
We express our heartfelt gratitude to Dr. Michael C. Markovitz for his 25 years of exemplary leadership, mentorship, and unceasing dedication to Atlanta's John Marshall Law School. We look forward to celebrating his legacy in the coming weeks and wish him the most fulfilling and rewarding journey ahead.