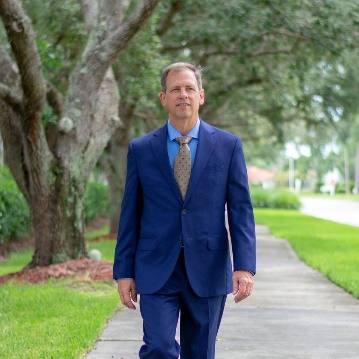 Atlanta's John Marshall Law School (AJMLS) is pleased to announce the appointment of Kevin Cieply, Ed.D., Founder of Cieply Law and Partner at RAMA International Inc., to the Board of Directors. The appointment occurred late September 2023 and is a celebrated homecoming as the new Board member was a former Associate Dean at AJMLS.
Cieply is the former President and Dean of Ave Maria School of Law (2014 – 2021), and former Associate Dean of Academic Affairs and Associate Professor of Atlanta's John Marshall Law School (2008-2014).
Recently, Cieply received a Master of Law degree from Texas A&M in Wealth Management (2023), and a doctorate in Educational Leadership (Ed.D.) from Vanderbilt University (2022). In 1985, Cieply received his B.S. degree from Northern Kentucky University. His Juris Doctorate is from Notre Dame (1993), and he received a Master of Law degree from the Army Judge Advocate Generals' School in 1997 (Honor Graduate). In 2006, Cieply was a Senior Military Fellow at the Fletcher School of Law and Diplomacy, Tufts University.
Before his career in legal academia, Cieply served over 22 years in the Army and Army National Guard as a helicopter pilot, company commander, and JAG Officer. Cieply graduated from the Army's Airborne School, Air Assault School, and Flight School. In flight school, Cieply graduated as the Distinguished Honor Graduate. He was rated in the UH-1, OH-58, and AH-1 helicopters. He was also a school-trained Aero-Scout and Maintenance Test Pilot.
Cieply served as a Special Assistant U.S. Attorney (District of Arizona) prosecuting major procurement fraud for the Department of Defense and as the full-time Senior Legal Advisor on all military matters to the Wyoming Army National Guard. Cieply's last military assignment was as the Chief, of Land Operations Law, North American Aerospace Defense Command (NORAD) and U.S. Northern Command (NORTHCOM), concentrating on counterterrorism and Defense Support of Civilian Authorities. He retired from the military in 2008 with the rank of Colonel.
Cieply is admitted to practice law in Arizona (Active), Colorado, Florida (Active), Georgia, and Wyoming (Active), as well as the Ninth and Tenth Circuit Courts of Appeal and the U.S. Supreme Court. Cieply resides with his wife in Naples, Florida and Scottsdale, Arizona. They have three adult children and seven grandchildren.
Members
Dr. Michael C. Markovitz, Ph.D.
Chairman, Board of Directors
Kevin Cieply, Ed.D.
Founder, Cieply Law and Partner, RAMA International Inc.
Kwaku C. George (KC)
Director, National Development Council
Honorable Carol W. Hunstein
Former Justice, Supreme Court of Georgia
Adam Malone
Partner, Malone Law
Teri P. McClure
Former General Counsel and Chief Human Resources Officer, Senior Vice President of Labor Relations and Communications, United Parcel Service of America, Inc.
Patrise M. Perkins-Hooker
County Attorney, Fulton County, Georgia
Kevin Ross
President, Kevin Ross Public Affairs Group LLC
Dr. Lawrence B. Schlachter
DDS, MD, JD, Schlachter Law Firm
Dean James P. White
Consultant Emeritus, Section on Legal Education & Admission to the Bar, American Bar Association
Advisor
Linda A. Klein
Shareholder, Baker Donelson