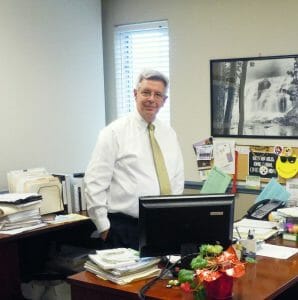 Atlanta's John Marshall Law School (AJMLS) is saddened to announce the loss of our dear friend and colleague, Allan Brezel. Allan was the Law School's Associate Dean for Finance (and prior Chief Financial Officer). Known for his fatherly demeanor and dry humor, the AJMLS family feels lucky to have met Allan in early 2011. Our hearts are with his family, who were his everything.
Re post from The Atlanta Journal-Constitution
Allan Brezel, age 64, Marietta, GA, died November 17, 2018. Allan was a caring man who loved his family with all of his heart. Allan was originally from Queens, New York. The son of two holocaust survivors who grew up helping his parents run their family owned clothing store on the Lower Eastside of Manhattan. Allan and his wife, Susan, relocated to the Atlanta area where he attended Emory University, earning a master's degree in accounting.
In Atlanta, Allan and Susan put down roots and made friends who became family. The three children that Allan and Susan raised together were Allan's greatest loves. Allan enjoyed playing golf, watching the stock market, taking long walks along the Chattahoochee River, and spending as much time as possible with his three granddaughters who called him 'Pop-Pop'. Allan was well known amongst his friends and family for being a good listener and giving sound advice. Allan made a positive impact on everyone he met and the world will be a little darker without his warm hugs and bright smile.
He is survived by his wife, Susan Brezel; daughter and son-in-law, Jennifer and Matthew Kulkin; son and future daughter-in-law, Jonathan Brezel and Michaela Hankinson; daughter and son-in-law, Jordan and Michael Levene; brother and sister-in-law, Dr. Ted and Claire Brezel; brother and sister-in-law, Dr. Mitchell and Lisa Brezel; grandchildren: Ava, Julia and Elise.
Sign online guest book at www.edressler.com. In lieu of flowers, memorial donations may be made to The Lustgarten Foundation for Pancreatic Cancer Research (www.lustgarten.org).
A graveside service will be held Monday, November 19, 2018 at 3:00 pm at Arlington Memorial Park with Rabbi Joshua Heller officiating. Arrangements by Dressler's Jewish Funeral Care, Atlanta (770) 451-4999.
Published in The Atlanta Journal-Constitution from November 18 to November 19, 2018