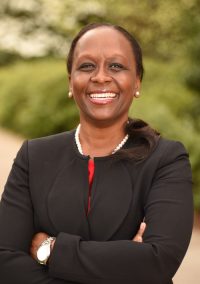 Atlanta's John Marshall Law School (AJMLS) is proud to announce that Wendy Aina has accepted the position of Chief Development Officer of AJMLS and the John Marshall Law School Foundation, effective January 2021. She will also be responsible for leading the Law School's Development and Alumni Relations department, which includes its newly appointed Director of Alumni Relations.
Wendy comes to AJMLS with 10+ years in higher education and 15+ years working for a large fortune 500 company. Her experience spans customer service, fundraising, and student affairs.
Most recently, Wendy worked at Georgia State University as the Director of Development for Perimeter College, and also at the University of Georgia's Franklin College of Arts and Sciences as Assistant Director of Annual Giving. In both roles, she was able to increase alumni participation, secure scholarship support, increase funding to support student success, and increase various external profiles.
At AT&T, Wendy led teams in the consumer and DSL internet departments where she established a reputation as a leader with a strong customer-centered focus.
Wendy said,
"I am thrilled to join AJMLS's team, and I am excited about the opportunity to lead the Foundation in securing scholarship support for our students. I look forward to building strong relationships with our alumni and the community who desire to support our students as they pursue their educational goals of becoming future lawyers."
She added
"Every gift is an investment towards the success of our students. The gifts we receive allow us to attract and retain future leaders to AJMLS. It also helps us to ease the burden of student loans on our students so they can focus on the pursuit of their desired educational goals."
Wendy has both a bachelor's degree in English, as well as a master's degree in Educational Administration & Policy. Both degrees were earned from the University of Georgia. For additional information on how you can partner with us please contact Wendy Aina at waina@johnmarshall.edu or (678) 916-2674.