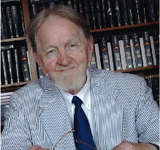 Atlanta's John Marshall Law School (AJMLS) is thankful for its longtime friend, Bobby Lee Cook, who passed away this week at 94. It has been the pleasure of the Law School to have hosted the Bobby Lee Cook Practical Legal Symposium for nine years. The (now-retired) symposium brought together experienced lawyers and judges who reflected on their legal careers, trends in the profession, and advised Atlanta's John Marshall students about the challenges and opportunities ahead. The event was always open to the public.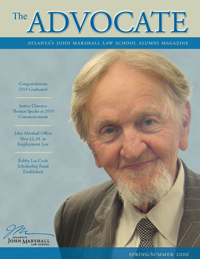 Mr. Cook has also appeared on the cover of and been the lead story in the Law School's The Advocate magazine in 2010.
Cook, who had been a principal of Cook & Connelly in Summerville, GA, earned fame for his career as a criminal defense attorney and representation in some of the most controversial criminal trials in the state. He is believed by many to have inspired the character of "Matlock" in the television series. Mr. Cook's influence extended beyond Georgia, as he had also represented national and international figures. Early in his career, Mr. Cook served in the Georgia House of Representatives and Senate before becoming a State Court Judge. Mr. Cook's achievements were recognized by the Georgia Bar in 1994, when it named him Trial Lawyer of the Year.
Cook is survived by daughters Kristina Cook Graham, chief judge of the Lookout Mountain Judicial Circuit, and Sara Cook Williams; and several grandchildren.