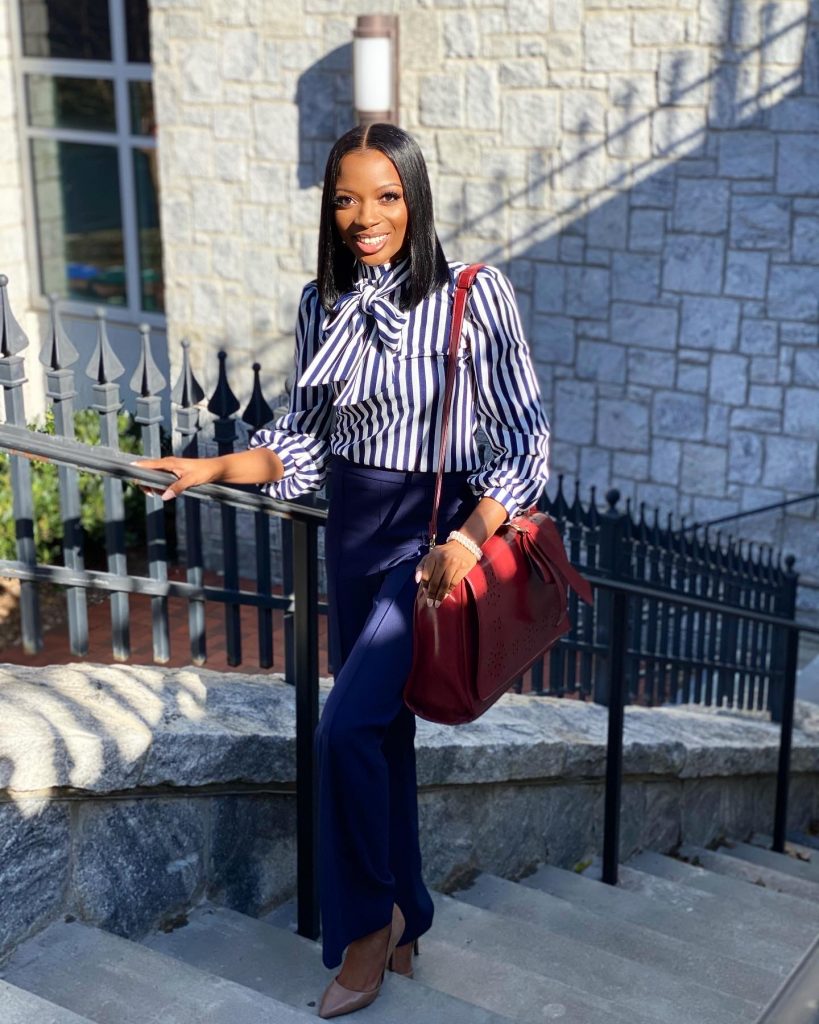 Atlanta's John Marshall Law School (AJMLS) congratulates 4L, Ashley Lewis, as this year's Georgia Association for Women Lawyers (GAWL) Foundation Scholarship recipient.
*The GAWL Foundation awards scholarships every spring to deserving women law students in Georgia. Scholarship winners are honored at the GAWL Annual Dinner and receive, in addition to the scholarship, a complimentary one­-year GAWL membership. GAWL Foundation Scholarships are intended to:
Recognize women law students who have demonstrated a commitment to excellence and an aptitude for leadership and philanthropy;
Promote excellence in legal studies by providing assistance to deserving students; and
Advance the missions of both the Georgia Association for Women Lawyers (GAWL) and the GAWL Foundation by enhancing the welfare and development of women lawyers and supporting their interests, and by encouraging philanthropy by women lawyers in Georgia for the benefit of the greater community.
When asked what the scholarship means to her, Ashley said,
"This scholarship means that I can focus on the bar without worrying about the financial burden of having to work. It also means that people value me for being authentically me. I did not have perfect grades, but I showed them my authentic self and my drive to advance other law students. I think it is a reminder that you have to always be true to yourself. In addition, this scholarship reminds me to continue to pay it forward for other up and coming law students. As I prepare to embark upon my legal career, I want all law students, particularly female law students, to know that anything is possible with determination, grit, and a lot of hard work!"

Ashley goes on to say, "A huge thank you to my mentor Tiffany Watkins and Professor Jeffrey Van Detta for being amazing advocates for me, not only for this scholarship but throughout my entire law school journey!"
Thinking ahead, Ashley noted of the future,
"My future aspiration is to become a corporate finance and securities attorney. However, I want to always ensure I am giving back to the community in which I live, whether through pro bono or community service efforts. One of my favorite organizations is the Atlanta Volunteer Lawyers Foundation (AVLF)."
In her current role as the Vice President of the AJMLS GAWL Chapter, Ashley assists the GAWL President with implementing events to inspire and educate female law students about the many opportunities within the legal profession. Ashely enjoys supporting and uplifting students, and as such, mentors a plethora of pre-law and first-year law students. Currently, she serves as the Director for the AJMLS Peer Mentoring Program. In this role, she mentors first-year law students, majority female, by providing guidance and encouragement throughout their first year of law school. In addition, she previously served on the Student Programs Committee, for the Georgia Association of Black Women Attorneys. In this role, she helped to assist with programming for minority female law students such as the organization's Annual Blue Jeans brunch. Ashley also actively participates in community outreach through AJMLS, by volunteering each year at My Sister's House. On Halloween, they usually visit the women's shelter and provide the children with candy and school supplies. On several occasions, she has also volunteered with the Atlanta Volunteer Lawyers Foundation in the Housing Court Assistance Center, where she helps low-income tenants to understand their rights and assists with filing answers to dispossessory complaints.
The Law School is incredibly proud of Ashley's determination and community service and looks forward to following her career and championing her future successes!