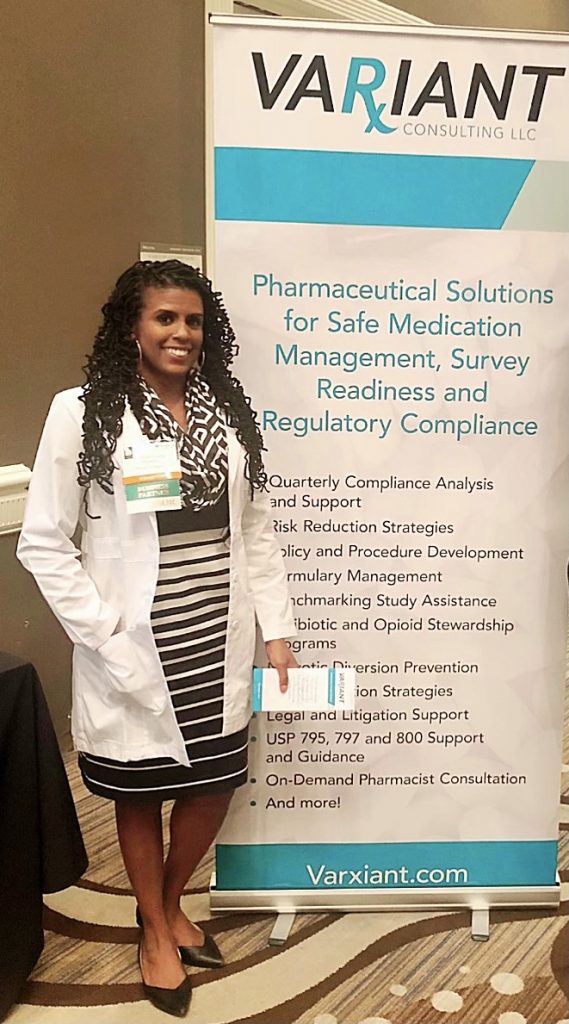 Atlanta's John Marshall Law School (AJMLS) 1L, Shannan Young, PharmD, MBA, was recently awarded the Alan Rumph Memorial Fellowship for her summer internship with the Georgia Department of Community Health and also the Georgia Department of Behavioral Health and Developmental Disabilities. The fellowship is awarded annually to commemorate the life of Alan H. Rumph, an exceptional healthcare attorney who served the Georgia Bar Health Law Section and the Georgia Bar in an exemplary fashion as a trusted advisor, friend, and mentor.
Young is a part-time evening student who earned her Bachelor of Arts in Chemistry from the University of West Georgia, her Masters of Business Administration in Healthcare Management from American Intercontinental University, then her Doctorate of Pharmacy from Massachusetts College of Pharmacy and Health Sciences. She also served in the U.S. Army Reserves for eight years as a healthcare sergeant/combat medic. After practicing as a staff pharmacist, then surgical pharmacist in Atlanta, she opened her own pharmacy consulting group, Varxiant Consulting LLC, which she continues to lead as the Chief Pharmacist while attending Atlanta's John Marshall Law School. 
At AJMLS, Shannan is in the top 5% of her class and on the Dean's List after her first year of study, was named an Outstanding Student of the Quarter for Fall 2020, and earned a CALI Excellence for the Future Award® for Contracts in her first semester of law school. She is also the Student Bar Association 1L Class Representative, a Diversity and Inclusion Student Committee Member, Barbri Representative, Southern Regional Black Law Student Association Social Action Director, American Bar Association Student Liaison – Substance Use Disorders and Mental Health IG, Gate City Bar Student Member, and Georgia Association of Black Women Attorneys Student Member.
Shannan engaged in answering a number of questions for us to help our community get to know her and her journey better.
What led you to change careers? 
"Most of my career decisions were the result of me responding to a need or a cause that directly impacted someone I cared about, I call it my hero's journey. My personal trek into unknown territory to retrieve something that my family or I needed. Each new adventure planted the seeds for this next adventure. Additionally, having taken all of the adventures that I have, I have often noticed that the people that make decisions are very far removed from the processes that they control. As a result I feel that it is my duty to speak up having witnessed health inequity and systemic racism not only as a minority, as a woman, as a soldier, as a patient, as a family member of a patient who was mistreated by the healthcare system, as a healthcare provider, and soon as an attorney."
Why AJMLS? 
"AJMLS offered a flexible program that worked with my schedule as a consultant pharmacist."
How do you balance work and law school? 
Once I figure that out, I will let you know. Honestly as hard as law school is, the demand of it is a lot like my life as a multi passionate adult outside of school. I have always had a tendency to take on a lot of things at once and oddly enough I feel like I do best when I am running around like a chicken with its head off. One thing that I can say helps me is that outside of reading my textbook and reviewing my class notes, I listen to the Barbri lectures whenever I am in my car, I think the repetition helps me. Other than that I try to write everything down so I can keep track of all the things I need to do and I constantly tell myself that I can, I will, and I must see this through.
What does the future look like for you after graduation? 
I don't know exactly but I am optimistic. My goal is to be at the decision-making table relying on my acquired knowledge, my experiences, and my personal connection to the realities of my community to make meaningful change as it pertains to the health and welfare of minorities and other disenfranchised groups.
What will you be doing this summer with your internship?
A little bit of everything! This summer I will be splitting my summer between the Department of Community Health and the Department of Behavioral Health and Developmental Disabilities. I am primarily hoping to get some insight into policy approaches to address health disparities and the development/implementation of policy at a local and state level. Additionally, I have been asked by two different law firms to assist on independent projects so I am excited about that especially because it will give me some exposure to state and federal litigation.
Who inspires you? 
I am forever inspired by all the minorities and all the women that have paved the way for me to be able to do everything that I have done and will do in the future. I am also forever inspired by everyone who has been able to turn tragedy into triumph and to overcome adversity. 
It is our pleasure to be a part of Shannan's journey and we wish her all the best in her internships this summer. We can't wait to see what she does next!