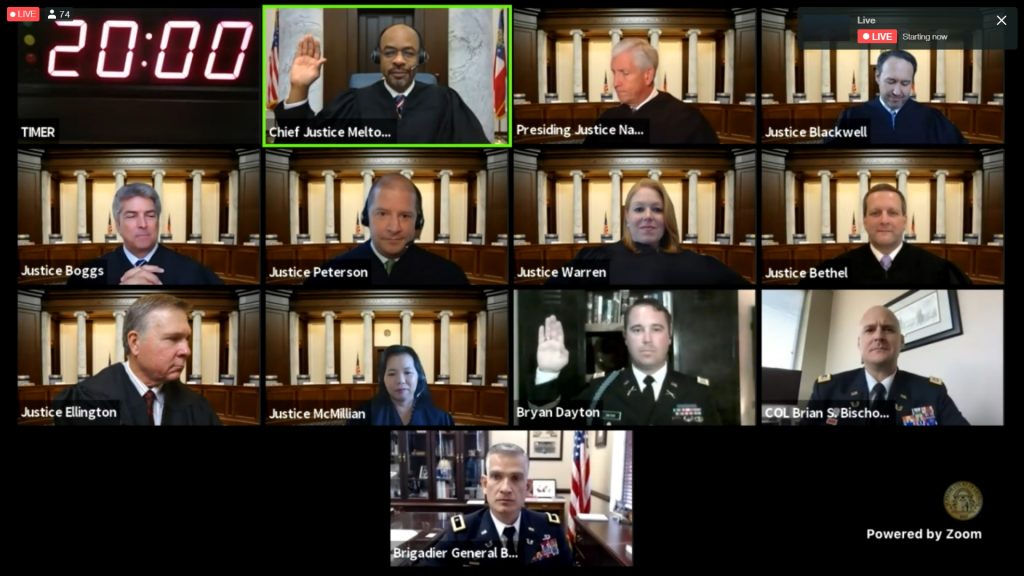 Atlanta's John Marshall Law School (AJMLS) congratulates 2019 alumnus, Captain Bryan Dayton, for his momentous swearing-in this morning to the Bar of the Georgia Supreme Court. Capt. Dayton is currently with the Georgia Army National Guard and works with U.S Army Europe Command. He is deployed to Germany where he plans joint training missions with our NATO partners in Europe and Asia, and as such, became the first person to be sworn into the Georgia Supreme Court virtually.
Capt. Dayton is transferring from the Infantry to the Judge Advocate General's (JAG) Corps to serve as an Army lawyer. To make the branch transfer, he is required to earn a certificate of good standing showing that he has been admitted to the highest court of the state. Capt. Dayton had two sponsors who participated in today's remote swearing-in ceremony. One of his sponsors is Brigadier General Bobby Christine, who is also the United States Attorney for the Southern District of Georgia in Savannah. Brig. Gen. Christine, a one-star general, has the distinction of being the only general officer in the Army National Guard JAG Corps. Capt. Dayton's second sponsor is Colonel Brian Bischoff, who was recently appointed by Gov. Brian Kemp to succeed Brig. Gen. Christine as the State Judge Advocate for the Georgia National Guard.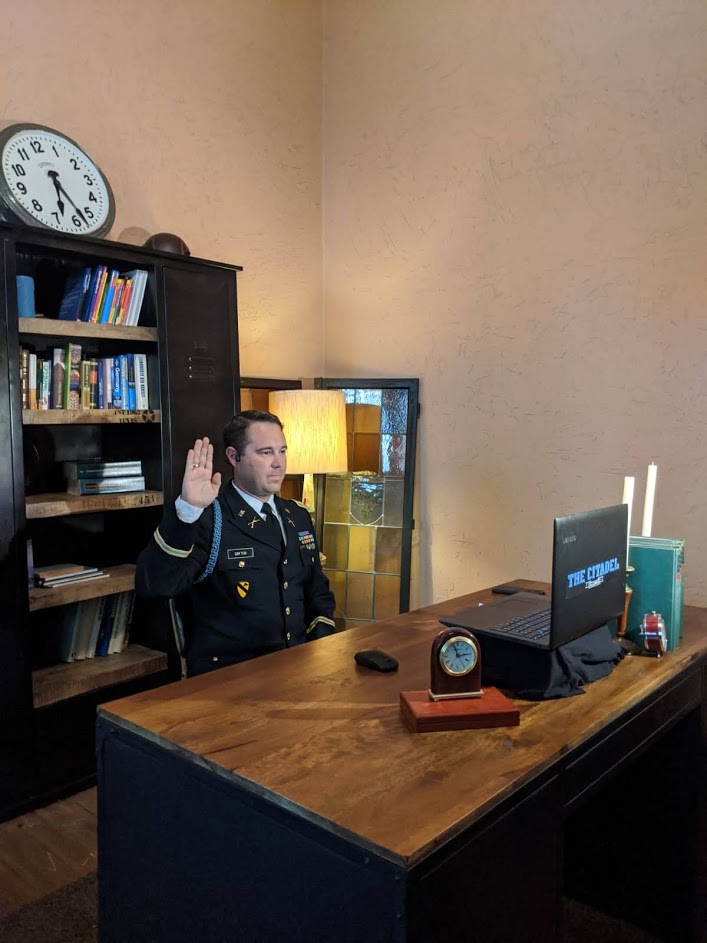 Upon his return to Georgia, Capt. Dayton will be taking a job with the law firm of Prieto, Marigliano, Holbert, and Prieto, LLC, specializing in recovery for victims of long-term-care negligence and elder abuse.
In 2008, Capt. Dayton received his Bachelor's Degree in Criminal Justice from The Citadel, the Military College of South Carolina. Last year, he received his Juris Doctor from Atlanta's John Marshall Law School, graduating top 5 in his class.
Between his undergraduate studies and law school, Capt. Dayton spent six-years on active duty as an Army Infantry Officer. While on active duty, he deployed as a Platoon Leader to Kuwait, in support of Operation Spartan Shield. He also deployed to Latvia and Poland to support Operation Atlantic Resolve. As an Army Officer, Capt. Dayton earned a Ranger Tab, Airborne Wings, Air Assault Badge, Expert Infantrymen's Badge, and many other decorations and awards.
Capt. Dayton made the most of his time at Atlanta's John Marshall involving himself in several different on-campus activities. He participated in Law Review for a semester before joining the Mock Trial team. While on Mock Trial, he traveled to South Carolina and competed in the Palmetto State Classic hosted by the University of South Carolina. Additionally, he worked as a Lexis Nexus Student Representative, a student employee at the Michael L. Lynch Law Library, and led the Atlanta's John Marshall Barbri Student Sales Team.
Capt. Dayton and his beautiful wife Kayt, who will be returning to the US this month to attend Georgia Tech's Master in Architecture program, maintained a residence in Atlanta since 2016 while living in Wiesbaden, Germany for his work. Capt. Dayton's hobbies include marathon-running, working out, travel, and reading.
Capt. Dayton shared, "The biggest lesson I learned at John Marshall was that every day I need to strive to be better than I was yesterday." He sat for and passed the July 2019 Georgia Bar exam.
Congratulations to Capt. Dayton! Thank you for your service and we look forward to welcoming you back to Georgia very soon.