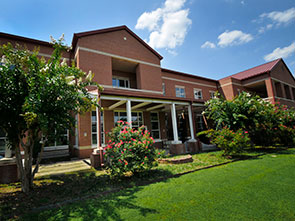 Few resources are available to provide free criminal legal services for homeless Veterans, despite the fact that legal services are often essential for removing barriers to obtaining or retaining permanent housing, receiving needed healthcare, income stability, and opening doors to employment. Atlanta's John Marshall Law School (AJMLS), in partnership with the Atlanta Veteran's Administration Medical Center (VAMC), has created a voluntary Veteran's Legal Intensive Externship program at Ft. McPherson military installation in East Point, Georgia.
This hybrid clinical externship, known as the Homeless Veteran Legal Clinic, is run by the Office of Experiential Learning and is supervised by AJMLS Alumnus Mr. Corey Martin of Martin and Associates. The hybrid clinic is manned by AJMLS students and operates on a walk-in basis once a month. It is a great opportunity for students to receive externship or pro bono credit.
Since its inception in 2018, 34 referrals have been made to the Homeless Veteran Legal Clinic and AJMLS students have served 23 of the 34 cases. Four veterans have had their charges dismissed, 18 cases received legal consultation, and in five cases legal representation is currently being provided. The average number of referrals are three to four per month. This is a great opportunity for AJMLS students to serve those who have served us. Should you have any questions or require additional information, please contact Assistant Dean, Dr. Bridgett E. Ortega at bortega@johnmarshall.edu.
The Fort McPherson VA Clinic is located at 1701 Hardee Avenue, Southwest Atlanta, GA 30310.