This event has been postponed and will be rescheduled for Spring 2024. Please check back at a later date.
[J]ustice demands more than good prosecutors and good judges. It demands meaningful access to counsel for the accused, including those who cannot afford attorneys. To provide that access, and to reaffirm the kind of faith in law upon which our democracy depends, public defender offices need more resources. Our nation needs more lawyers to answer the call of public service by providing criminal defense for those who cannot afford it.
Rachel Rossi, Director, Office for Access to Justice, U.S. Department of Justice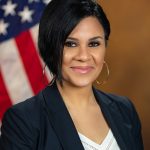 President Joseph R. Biden and Attorney General Merrick B. Garland announced the appointment of Rachel Rossi as Director of the Office for Access to Justice in May 2022. Prior to her appointment, Director Rossi served as Deputy Associate Attorney General in the Office of the Associate Attorney General, Vanita Gupta. In that role, she also served as the inaugural Anti-Hate Coordinator for the Justice Department. Director Rossi began her career as a public defender in Los Angeles for almost a decade. She practiced in the Los Angeles County Public Defender's Office, the Los Angeles County Alternate Public Defender's Office, and the Federal Public Defender's Office for the Central District of California, where she vigorously defended hundreds of low-income clients in state and federal courts. Director Rossi then served as Counsel to Senate Judiciary Committee Chair Richard J. Durbin (Illinois), where she was the lead staffer on the First Step Act, a major U.S. federal criminal justice reform billsigned into law in 2018 that created comprehensive sentencing and prison reforms. She then transitioned to the role of Counsel to the U.S. House of Representatives, Committee on the Judiciary, Subcommittee on Crime, Terrorism, and Homeland Security, working for then Crime Subcommittee Chair Karen Bass (CA-37). In 2020, Director Rossi was the first former public defender to run for the nonpartisan seat of District Attorney of Los Angeles County, where she was only five points shy of qualifying for the runoff election, receiving almost half a million votes. She then served as the Legal Director for the REFORM Alliance, where she launched the development of a litigation program for direct representation in criminal cases and in civil litigation matters surrounding issues of probation, parole, supervised release, and community supervision. Director Rossi received her law degree from Pepperdine University School of Law, where she won the International Moot Court Competition, in Grays Inn, London, and served as Student Articles Editor for the Pepperdine Dispute Resolution Law Journal. She received the Pepperdine University School of Law Larry D. Kimmons Racial and Social Justice Award, was named one of the National Bar Association's Top 40 Under 40 Lawyers, and was recognized as an Influential Capitol Hill Staffer by Lawyers of Color. Director Rossi grew up in Los Angeles, California. She is the daughter of immigrant parents born in the Dominican Republic and Greece.
Participating Organizations
| | | | |
| --- | --- | --- | --- |
| L | I | U | u |
| Opportunities available for graduating law students | Opportunities available for 1L and 2L students | Opportunities available for graduating college students | Summer opportunities available for college students |
| | |
| --- | --- |
| Black Public Defender Association (BPDA) (National) | I, u |
| Chattahoochee Judicial Circuit Office of the Public Defender (Columbus, GA) | L, I |
| City of Atlanta Office of the Public Defender (Atlanta, GA) | L, I, U |
| Defender Association of Philadelphia (Philadelphia, PA) | L, I, u |
| The Law Office of the DeKalb County Public Defender (Decatur, GA) | L, I |
| Federal Defender for the Middle District of Georgia, Inc. (Macon, GA) | L, I |
| Flint Judicial Circuit Office of the Public Defender (McDonough, GA) | I |
| Gideon's Promise (National) | |
| Griffin Judicial Circuit Office of the Public Defender (Griffin, GA) | |
| Kentucky Department of Public Advocacy (Kentucky) | L, I |
| Law Offices of the Public Defender, Second Judicial Circuit of Florida (Tallahassee, FL) | L, I, U |
| Macon Circuit Public Defender (Macon, GA) | L, I |
| Maryland Office of the Public Defender (Offices throughout Maryland) | L, I |
| Partners for Justice (National) | U |
| Southern Center for Human Rights (Atlanta, GA) | L, I |
| Stern Law, LLC (Criminal Law and Immigration) (Atlanta, GA) | |
Panel Discussion – Transformational Stories: Wisdom From Justice-Impacted Law Students
| | |
| --- | --- |
| Panelists: | Travis Andrews |
| | Luci Harrell |
| | Ricky Panayoty |
| Moderator: | Professor Suparna Malempati |
Panel Discussion – Connecting Advocacy in the Courtroom, Community, and Statehouse
| | |
| --- | --- |
| Panelists: | Mazie Lynn Guertin, Executive Director, Georgia Association of Criminal Defense Lawyers |
| | Zanele Ngubeni, Director, Defender Development, Gideon's Promise |
| | Tiffany Roberts, Public Policy Director, Southern Center For Human Rights |
| | Natasha Silas, Federal Defender, Inc & Dean, National Criminal Defense College |
| | Sam Starks, Cochran Firm, Founder of The Barristers Society |
| Moderator: | Professor Jonathan Rapping |
Networking Opportunities for Law Students and College Students
Forthcoming
Workshops
Professional Opportunities for Undergraduate Students
Considering Law School/What You Need to Know
Writing to Courts (and Other Audiences): Effective Arguments, Motions, and Briefs
Professionalism: Building the Reputation Your Client Needs You to Have
Trial Advocacy Storytelling With Blocks: Direct and Cross Examination Games