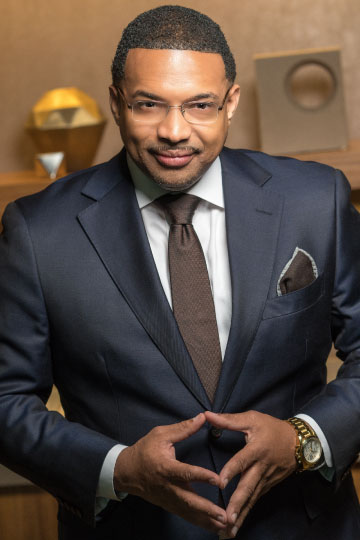 Atlanta's John Marshall Law School (AJMLS) congratulates 1L student, Dr. Rashad Richey, for his recent honor of being named one of the most powerful leaders in Atlanta on Atlanta Magazine's Atlanta 500 list.
Dr. Richey's work ethic knows no bounds as he maintains numerous responsibilities during the day and is completing his J.D. after hours in the law school's part-time evening program. Richey was voted "Best Talk Radio Personality in Atlanta" by readers of the Atlanta Journal-Constitution for his weekly morning show on News & Talk 1380-WAOK and named "Most Trusted Voice in Atlanta Radio" by readers of the Atlanta Business Journal. Rashad is also the Political Commentator for The People's Station V-103, the nations' largest urban station. When Rashad is not on radio, he's on television as the Political Analyst for CBS 46 News and Peachtree TV Atlanta, where he provides insightful commentary, special reporting and breakdowns of local and national news. Rashad was nominated for an Emmy Award for his riveting television news coverage of a small Georgia town still dealing with the very real effects of racism and systemic segregation. Nationally, Rashad is a regular commentator on MSNBC and the Fox News Channel, providing insightful commentary on social justice and political matters. Beyond broadcasting, Rashad serves as the Chief Editor-At-Large and Sr. Writer for Rolling Out Magazine, which has a national millennial readership of 2.2 million and is the largest free print urban publication in America. 
Believing service is what connects humanity, Rashad serves on the Board of Directors for Piedmont Atlanta Hospital, Recovery Consultants of Atlanta (a federally funded drug treatment center and medical clinic), and Children's Rights (a policy and legal advocacy organization dedicated to the rights of children). Rashad is also an active volunteer with STAND, Inc., Liberty Church Mentoring Program, and Fulton County CASA. 
After completing his doctoral studies at Clark Atlanta University, Rashad knew his next educational journey would be to dedicate himself to the study and ultimately the practice of law. Not to settle some intellectual curiosity, but to be a more fierce and equipped champion for disenfranchised communities.
Dr. Richey noted of his road to law school,
"I'm not the traditional law student. I have a busy schedule, studying and taking the LSAT was the last thing I wanted to add to my "to-do" list, but it was worth it. I come from very humble beginnings, overcame significant societal barriers and even made some mistakes along the way. While many would say these elements tend to hinder a person from going to law school, I believe it has propelled me on this journey."
On how he chose Atlanta's John Marshall Law School,
"When applying to various law schools, I knew my schedule would only allow for an evening program. My friend Kieth Gammage, who serves as the Fulton County Solicitor General gave me great advice and implored me to consider Atlanta's John Marshall Law School. I took his advice and it was one of the best decisions I've made. I also had many supporters in the legal community who guided me through the process and hold deep convictions about restorative justice; Chief Magistrate Judge Cassandra Kirk, Court of Appeals Judge Ken Hodges, Congressman Hank Johnson, and Judge Penny Brown Reynolds."
Considering his future after graduation, Dr. Richey has a plan,
"Once I complete my law studies and pass the Georgia Bar, I plan to use my legal training to work on federal civil rights cases and ensure those who have been historically shut out of the legal process will have another ally in the profession."
Atlanta's John Marshall Law School is honored to be a part of Dr. Richey's journey and we look forward to following his legal career and championing his work serving the community. Thank you, Atlanta Magazine, for celebrating his incredible leadership!