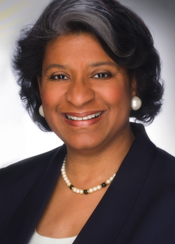 President of the State Bar of Georgia, Patrise Perkins-Hooker, accepted an invitation from Atlanta's John Marshall Law School and spoke to approximately 100 first year law students. The program was the final installment of the Atlanta's John Marshall Fall Professionalism Series and was held on Friday, November 7th, 2014, from 1 P.M. – 2 P.M. at the Blackburn Conference Center . The topic discussed was "Your Professional Obligation to Give Back to Your Community. "
The Professionalism Series is part of the law school's ongoing effort to help students establish good practices and high ethical standards early in their training.  It is also an opportunity for them to meet practitioners and members of the judiciary who exemplify the ideals of the profession.
Patrise M. Perkins-Hooker, vice president and general counsel of Atlanta BeltLine Inc., was installed as president-elect of the 45,000-member State Bar of Georgia on June 22 during the organization's Annual Meeting.
Having previously served on the Board of Governors and Executive Committee and as secretary (2011-12) and treasurer (2012-13), she will become the first African American and the third woman to serve as president of the State Bar of Georgia in its 50-year history when she is sworn into that office in June 2014.
Perkins-Hooker is a graduate of the Georgia Institute of Technology and the Emory University Law and Business Schools. She is very active in community work, serving and/or leading many community organizations, including Hosea Feed the Hungry, an organization that serves hungry, homeless, and other disadvantaged citizens. She was admitted to the Bar in 1984.