Virtual Mock Class with Professor Van Detta
November 3, 2021 @ 6:00 PM

-

7:30 PM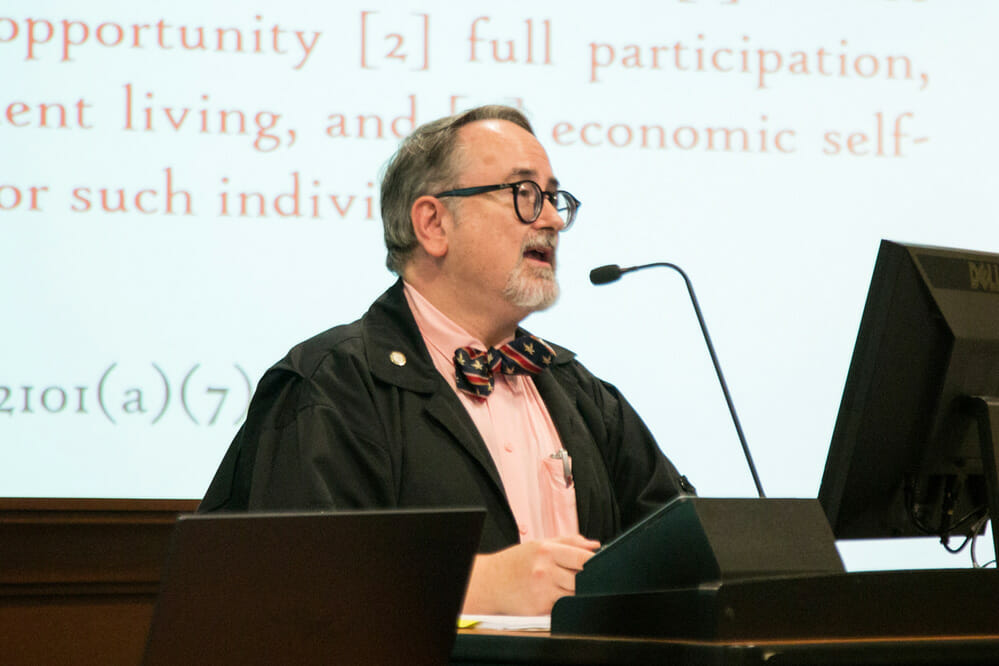 Wednesday, November 3, 2021 at 6:00 p.m. – Join Atlanta's John Marshall Law School's Office of Admissions and Professor Van Detta for a Virtual Mock Class! You will be provided materials to review in advance of the event to be prepared for a real law school class experience. This event will exhibit a typical day-in-the-life class for Atlanta's John Marshall Law School students. After the mock class, there will be a brief discussion about the J.D. programs at Atlanta's John Marshall led by the Office of Admissions. Please RSVP below to reserve your seat and receive your class materials by email.
About Professor Van Detta
Professor Van Detta entered the legal field after numerous academic achievements and honors. He was elected to Phi Beta Kappa at Union College of Union University, and during law school, he was elected Editor-In-Chief of Volume 51 of the Albany Law Review at Albany Law School of Union University. In law school, he was the inaugural Dean Ralph G. Semerad Memorial Scholar as well as a Van Horne Scholar; elected to the Justinian Academic Honor Society; selected by the faculty to receive the Scribes Award for the most outstanding and analytical student article published in Volume 50 of the Albany Law Review; and awarded the Cardozo Prize for his leadership and editorial work on the Law Review.
After law school, Professor Van Detta first served as Law Clerk to Judge Roger J. Miner of the U.S. Court of Appeals for the Second Circuit before entering private practice. He practiced for 12 years at the international law firm of Kilpatrick Stockton LLP in Atlanta where he was elected to the partnership and concentrated his practice in the areas of domestic and trans-national employment discrimination law, domestic and European labor law, and international business issues, representing major international corporations.
Professor Van Detta then followed his father's footsteps into academia, and joined the John Marshall faculty in August 1999. He was tenured and promoted to the rank of full Professor of Law in 2005. He served as Associate Dean for Academic Affairs in 2002 and in 2004.
In 2006, Professor Van Detta received the Robert J. D'Agostino Teaching Excellence Award from the students of John Marshall Law School, and he was named John Marshall's 2006 Association of American Law Schools Teacher of the Year.
From 2011-2015, Professor Van Detta served as the Associate Dean for Scholarship. In addition to being a prolific writer, Professor Van Detta has lectured in collaboration with Professor Timothy Terrell of Emory University Law School on the topic of judicial opinion writing and editing. Professor Van Detta has also served on the faculty of numerous legal institutes in New York, Washington, D.C., and Montreal. Since 2005, he has served as a member of the Formal Advisory Opinion Board of the State Bar of Georgia.
In 2013, Merkourios, Utrecht Journal of International and European Law, appointed Professor Van Detta as a member of the inaugural Permanent Board of Referees, based on his expertise and scholarly publications in the areas of Trans-National Commercial Law, International Business Transactions, International Civil Litigation, Private International Law, Employment and Labour Law, and Jurisprudence. Professor Van Detta teaches courses encompassing those areas in AJMLS's J.D. Program, American Legal Studies LL.M. Program, and Employment Law LL.M. Program. He also has taught and continues to pursue scholarship in the areas of Civil Procedure and Torts.
In recognition of his distinguished service to the law school, his excellence as a teacher, and the breadth and depth of his scholarship, the Board of Directors has conferred upon Professor Van Detta a named Chair in Law: The John E. Ryan Professor Of International Business & Workplace Law.